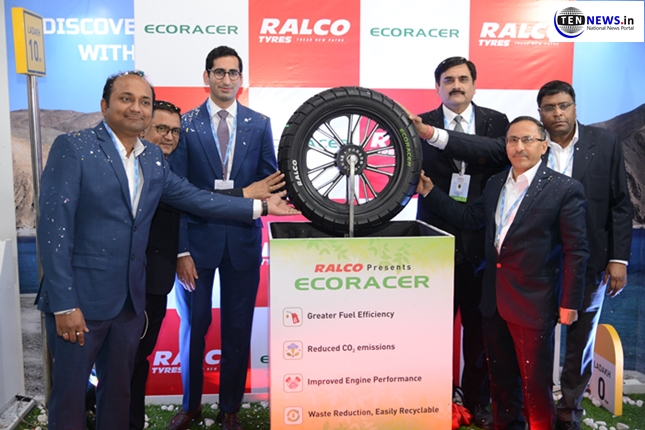 Auto Expo 2020: Ralsons India launches Innovative & Eco-friendly Tyre for Motorcycles
Saurabh Kumar / Baidyanath Halder
Greater Noida (10/02/2020) : RALSONS India, owner of the RALCO brand, launched their innovative and eco-friendly 120 80 18 tyre for two wheelers here at the Auto Expo 2020.
RALSONS (India), a relatively new entrant into the two-wheeler tyre segment already has a 5% market share and is setting up of its third manufacturing unit for its radial tyre production at Madhya Pradesh at a cost of Rs 1788.50 crore.
Ten News interacted with the Vice President of Ralsons India Yogeshwar Sharma who talked about the newly launched Ralco tyre. He said, "With the launch of the innovative and eco-friendly 120 80 18 Tyre, the company aims to cater to the intensely growing 2-wheeler automotive users with dynamic needs and predominantly comprising the millennials."
"The 120 80 18 is not only a environment friendly tyre, but it also enhances the performance of vehicle by minimizing fuel consumption & reducing CO2 emission to the environment. The Eco tyreutilizes unique compound with cutting edge technology in tread design to strike a balance between fuel efficiency, safety & durability." He added further.
He also urge & emphasized over the tyre safety as many times it is seen that people don't care much about their tyres. He said, "Specialy in two wheelers segment, it is seen that most of the accident is caused because of the poor quality of tyre. So, we need to take care of tyres at a regular interval of time."