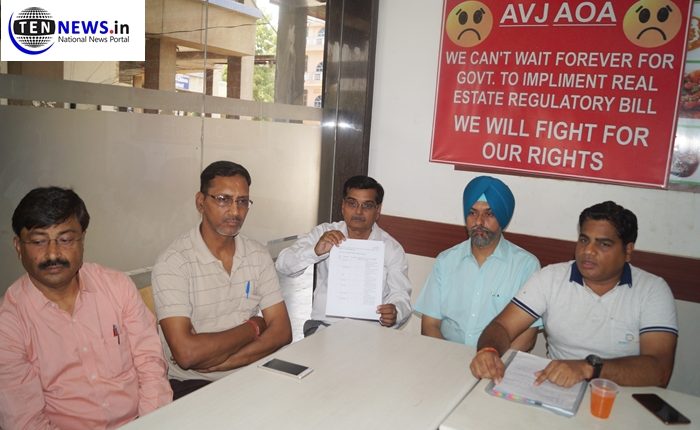 AVJ Heights Apartment Owners Association alleges SHO Surajpur for being biased in resident clash incident
Saurabh Kumar / Baidyanath Halder
Greater Noida (30/06/2019) : Today AVJ Heights Apartment Owners Association (an association of AVJ Heights society, Zeta 1) residents revealed the misery of resident clash incident happen at the society on June 23. Members of the association alleged serious allegations over police for favoring the real culprits.
On June 23rd clash broke out between two groups of residents over a row going on for taking charge of the society's maintenance. One group is of AOA (apartment owner association) that is formed four back after the builder of AVJ Heights was sent to jail by the court for doing fraud and latter gangster was also imposed on him. After the incident police booked three officials of AOA but latter after the intervention of SSP the second party also got booked.
Secretary of the association said that "the association who is currently running the society doesn't have any legal permission of doing that. They were collecting all the charges in cash and till now they had collected more than 5 crores, of which they don't have any details or audit. On refusing of paying in cash they use to threaten resident of dire consequences. Many time they canceled our association but in a recent order Allahabad High court put a stay over the cancellation order of commissioner which means since 24th may our association got valid as an association. we also have proof of everything.
On June 23rd when we called Anil Vaisla, third party, and director of a Delhi based facility Management Company, who looks after the societies maintenance work. For conducting a survey of society so that we can get details of the requirement for the maintenance of society. As he reached the society the bouncers which are working as security guards under the accused's, assaulted the resident's badly and even thrashed women's. When this happened police was also present there but remained silent watcher.
In this whole incident, the role of SHO seems to be fully biased as instead of taking action against the accused he registered a fake FIR against us on the complaint of Ayushi Tiwari. Ayushi Tiwari who don't holds any legal authority, not the beneficiary she even doesn't have his flat in the society. But though she is trying to involve in the incident. She also shares relation with the builder and we have a photo of hers sitting with police officials on the day of the incident."
President of the association DK Chaudhary "We are fighting this battle for four years this our hard work that gangster got imposed on the builder but unfortunate in the now once again he is on run. All the senior officials IG Meerut DM and SSP Gautam Budh Nagar are aware of this crisis so we are hoping soon we will get justice. Tomorrow we will be meeting SSP as last time after his intervention when the FIR got registered, he instructed about the sections of FIR which are not followed and weaker sections are placed in FIR" he told.