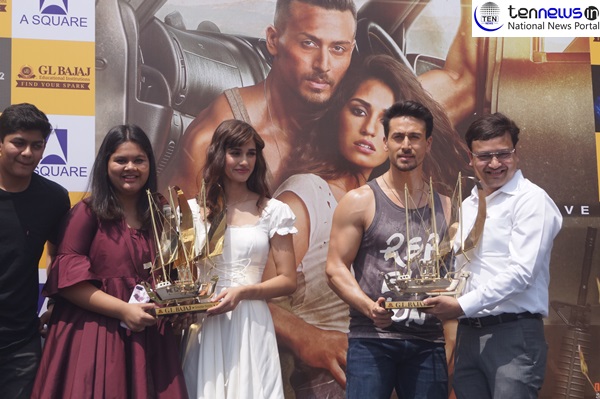 'Bagghi 2' Couple Tiger Shroff and Disha Patani take GL Bajaj Institute by storm!
Ashish Kedia / Saurabh Kumar
(26/03/2018) Greater Noida :
On a sunny afternoon of March, the temperature was a bit too high inside the GL Bajaj Institute of Management and Technology as one of the hottest Bollywood couples Tiger Shroff and Disha Patani visited its campus.
The Bollywood stars arrived in style in a chopper and landed right between the campuses. Thereafter the two boarded an open jeep and made their way to the stage amid loud cheer of fans.
The bouncers and security people have to struggle really hard to keep excited students at bay. There were moments when massive push by students almost collapsed the barricades near stage but the similarly attentive guards managed to maintain order.
The stars reached the campus with a delay of about an hour and Tiger was very prompt to apologize for the same. Looking chic and gorgeous in a knee length skirt paired by a crop top, Disha Patani remained toast of the event, with crowd breaking in to shouting her name, every once in a while. Wearing a sleeveless Tee and blue denim, Tiger also looked very much in a mood to indulge into dance-action routine and didn't disappoint any of his fans.
The Baaghi 2 couple remained on stage for about half an hour and thoroughly entertained the crowd. Some students of the GL Bajaj institute also performed dance in front of the stars. An individual also rapped specially written lyrics for Disha Patani, which was much appreciated by the duo.
At the end the duo was given a memento by GL Bajaj Institutes Vice-Chairman Pankaj Agarwal.