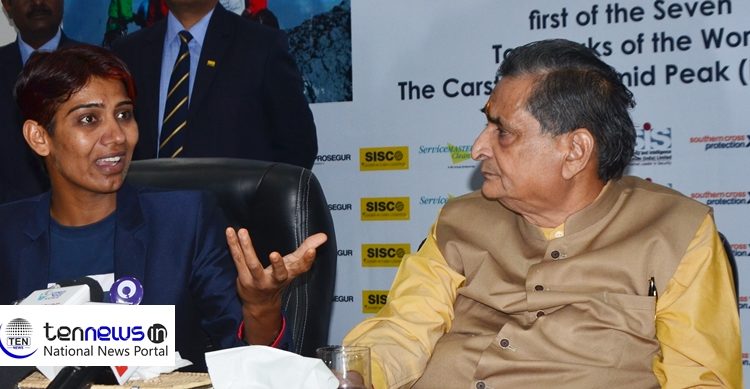 SIS Brand Ambassador Anita Kundu ticks off another peak in quest for record of conquering seven highest peaks
PRERIT CHAUHAN (PHOTO/VIDEO BY SAURABH SHRIVASTAVA)
New Delhi: Anita Kundu, 29, a sub-inspector with the Haryana police,returned from Indonesia on March 24 after unfurling our national flag on top of Carstensz Pyramid of Sudirman Mountain range in Popua Ana province of Indonesia at the height of 16,024 feet (4884 meters). Anita Kundu is also the first Indian woman to scale Mt Everest from China side.
Giving account of her expedition, Anita said that Carstensz pyramid mountain peak carried challenge and technically it was risky also. Due to insufficient Oxygen in the air, there is always a risk of life.There were 10 climbers from USA, Britain, France, Germany and some other countries besides me. But only three of us could complete the climb to reach at the top of the Pyramid of Carstensz.
Anita took this expedition lightly. But it was really difficult and dangerous mission. She did not had all necessary implements with her. At one stage she had only ropes between two mountains and beneath was thousands of feet of fall. There was gushing winds. Despite all these odds she was succeesful in her mission.

On her returning back to Capital, Ten News Caught up with, R K Sinha, Chairman of SIS Group of Enterprise and Member of Parliament (Rajya Sabha), He Said, "It is a matter of great pride for all of us that being a woman she has earned name and place of pride for the nation. I congratulate her on her success and assure to help her in future expeditions. The SIS is the sponsor of all expeditions of Anita Kundu. Anita is also Brand Ambassador of Hindusthan Samachar group, IISSM (International Institute of Security and Safety Management) and Indian Public School of Dehradun. Anita Kundu is just like a daughter to me."

Talking Exclusive to Ten News about her next Seven Summit Expedition, Anita said, "In April I will go to Australia to get at the top of mountain there".
Sharing experience about her Expedition, she said, "There are oil and gold mines in Indonesia. There is always possibility of volcano erupting in this region. Due to intermittent rains in the hills climbing mountain there is difficult as rocks get slippery. My helpers were afflicted with Malaria due to large presence of mosquitoes. Six of my companion helpers were down with fever during the expedition. The temperature was severely cold, much colder than temperature at Mount Everest".
On being asked about which actress she would like seeing playing her Biopic if ever a movie on her hits the silver Screen? She Answered, "Kangana Ranaut, I feel she is very talented and hardworking".