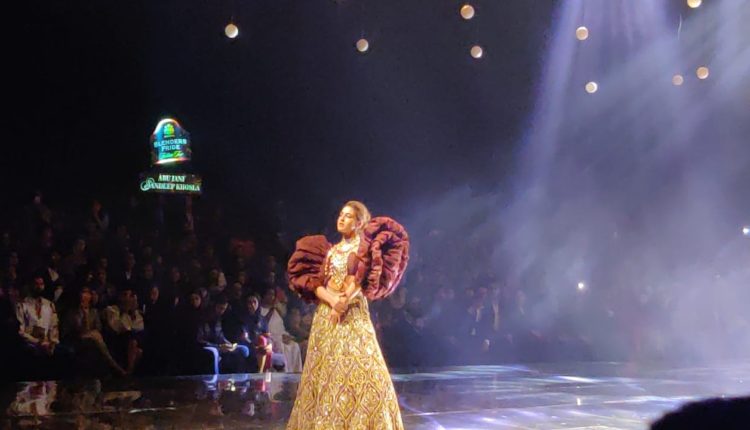 New Delhi (16/02/2020): Bringing the universe of pride to life, the celebrated Blenders Pride Fashion Tour went beyond conventional runway shows in its milestone 15th edition to unveil a breathtakingly new face of fashion. The tour travelled to New Delhi with acclaimed designer duo Abu Jani Sandeep Khosla curating a breathtaking experience that illustrated the concept of 'Blend', as an ode to the unifying power of fashion and its ability to transcend borders and geographies. Adding to the grandeur of the evening was showstopper Sara Ali Khan, who looked spectacular in a masterpiece by Abu Jani Sandeep Khosla.
Charting a unique course, the iconic 15th year of Blenders Pride Fashion Tour comes with a path-breaking format with designer Ashish Soni as curator-in-chief, and an exclusive collaboration with the Fashion Design Council of India (FDCI), the industry thought leader. By focussing laser sharp on fashion, the tour will present festivals of fashion and create a universe of pride through its three themes – Craft, Blend and Identity. The fashion extravaganza will culminate in a larger-than-life finale, 'The Pride of India', in collaboration with FDCI, in Mumbai with 15 eminent designers.
//youtu.be/JueFr8tq23U
While 'Pride' as a meaningful expression of success and individuality continues to take center-stage in this edition, it is actually India with its indigenous 'craft', 'blend' of diverse influences, and a distinctive 'identity' that will become the canvas of expression this year.
Stepping into the fashion spotlight as always, the tour also launched a new element – The Showcase – to provide a breakthrough opportunity for aspiring fashion designers and models to be mentored and display their talent at this year's Blenders Pride Fashion Tour.
The festivals of fashion at Blenders Pride Fashion Tour in New Delhi included segments such as the Collection Gallery, The Showcase, and Style Forum, each of which celebrated a whole new facet of fashion. An artistic display of 82 iconic pieces, The Collection Gallery was spread over three zones – Craft, Blend, Identity – including over 80 famed designers such as Alpana & Neeraj, Monisha Jaising, Shantanu & Nikhil, Shahab Durazi, Varun Bahl, Rahul Mishra, JJ Vlaya, Amit Aggarwal and Gaurav Gupta. The Showcase presented the work of winning designer Ikshit Pande, whose collection was defined by commitment to innovation, experimentation and crafting of evocative pieces of fashion. His collections are packed with ideas that highlight the nuances of sharp tailoring, casual elements of couture, and edgy hints of street style.
At the Style Forum, industry stalwarts such as Rahul Mishra, Ruchika Sachdeva, Shalini Passi, Antonio Maurizio, Kalyani Chawla, Ashish N Soni and Sunil Sethi, with Diva Dhawan as moderator, came together for an intellectual exchange of ideas in the fashion arena, focusing on the topic 'With a customer now universal, how has a blend of Indian ethos and global appeal made designers shift to making clothes borderless?
Speaking on the occasion, Kartik Mohindra, Chief Marketing Officer, Pernod Ricard India, said, "In its 15th year of spearheading fashion in India, Blenders Pride Fashion Tour moves beyond conventional shows to become a celebration of all things fashion with a new vision. With its path-breaking format, the milestone edition of the tour aims to enhance the appeal for the youth and set the tone for innovation in the years to come. The journey of 'Pride' that the brand undertook last year, continues to take center-stage this year as well, to bring alive distinctive expressions of 'Pride'. We are also thrilled to collaborate with the industry leader, FDCI, in this landmark year, to take the property to new heights, together with illustrious designers and artists from across the country."