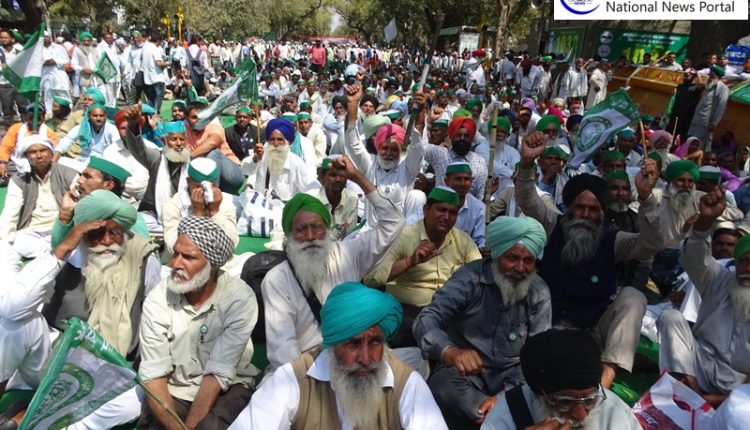 (13/.03/18)
New Delhi: Terming Union Budget as anti-farmer, thousands of farmers held protest at Parliament Street under the banner of Bharatiya Kisan Union (BKU) today and demanded to fulfill their long standing demands.
Unhappy with the Center for not implementing the Swaminathan Commission's recommendation on Minimum Support Price (MSP) for crops, and for not giving loan waivers, BKU Farmers from different states including Haryana, Punjab, Uttar Pradesh, Rajasthan, Madhya Pradesh participated in the protest and raised their voices to fulfill their demands.
"The BJP promised to implement the recommendations of the Swaminathan Commission in their election manifesto during the 2014 general polls but have taken a U-turn after coming to power. What has been announced in the Union Budget is eyewash. The country's farmer are feeling cheated, hence we are protesting here today," said national spokesperson of the BKU Rakesh Tikait.
"While the government conveniently helps the corporate sector, the farmers are left in the lurch. We are left with no choice but to protest," he added.
From last three years, the farmers have been trying to meet with the PM Narendra Modi but he has no time for the farmers. "Modi claims himself to be pro-farmer but he has no time to meet with farmers," said BKU National president Naresh Tikait.
"Today, we are meeting with President and vice-president and we have planned to voice our concern to them and will urge them to fulfill it as soon as possible," he added.