Biggest Road show on #GST Awareness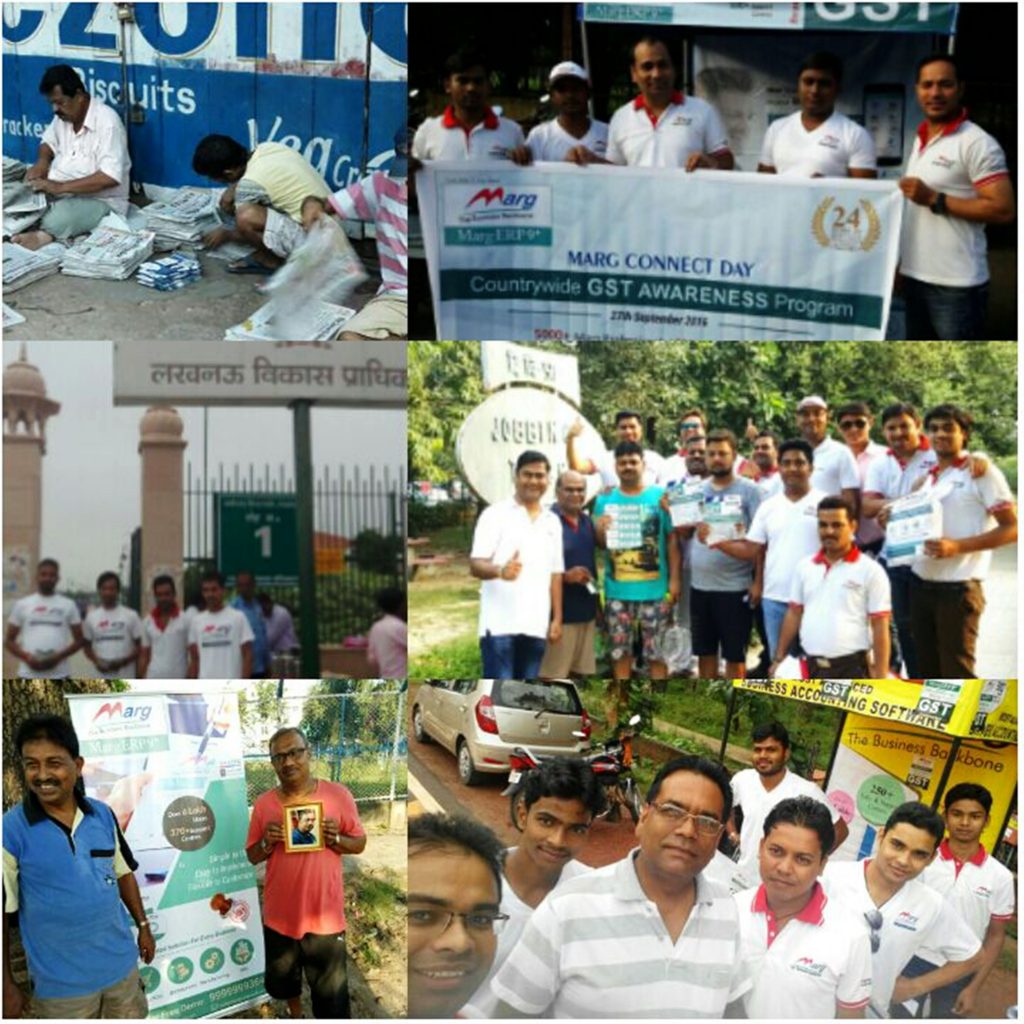 BiggestRoadshowon GSTAwareness
           5000 IT professionals from Marg Compusoft take to the streets to educate MSMEs on GST
Fastest growing accounting and inventory software firm, Marg Compusoft, targets to educate 5 lakhSME businesses on GST
 New Delhi, September 27th, 2016: GST is still months away, but momentum is fast building up. Leading the way to GST awareness is Marg Compusoft Pvt Ltd., a leading provider of integrated business management software. Marg Compusoft, took it upon itself to bring the much needed awareness about GST (Goods and Services) tax regime today.
The complete business solution software provider, Marg Compusoft Pvt Ltd., organized a huge multi-city road show with the objective of educating and establishing clarity on GST for the masses and especially for small and medium size enterprise owners.  A determined team of 5000 'MarGuns' (as they choose to call themselves) consisting of IT professionals from Marg Compusoft and its business partners were associated with the campaign.
Explaining the purpose of this road show, Thakur Anup Singh, Chairman and Managing Director of Marg Compusoft Pvt Ltd. said, "Our aim was to reach out to MSMEs and educate and establish clarity about GST. This is first initiative by any organization to reach out to such huge audience at their doorstep. While most other companies and the media organisations are spreading awareness on GST through online platforms or through television, we are the first to bring this information to your doorstep."
Experts say that GST is probably going to benefit the MSME sector most by changing the existing multi- layered tax structure. Hence it is critical that micro, small and medium-sized enterprises understand comprehensively the changing business dynamics with GST and analyze their growth potential, as they prepare themselves to comply with the country's largest indirect tax reform.
The campaign was organised in all metros and major tier-2 cities of India. It was an all-inclusive mixture of several activities including road show, door-to door meetings with vendors, group discussions and face-to-face interaction with MSME entrepreneurs and business-minded people. Canopy, Flyers, stickers, pamphlets, banners, t-shirts and caps were distributed as a part of the campaign.  The target audience included shopkeepers, retail shops, industrial estates, IT and hardware markets, traders, distributors, start-ups and so on.
"As a company specializing in SME-Business Management Software, we are now aiming to transform the way our customers manage business accounting and reap maximum benefits from the inventory-led model that will come up with the successful implementation of GST. While our immediate aim is to equip and empower SMEs with a GST- friendly software, our long term goal is to facilitate easy of business and take the Indian economy to new heights," said Mr Sudhir Singh, Managing Director Sales & Marketing, Marg Compusoft Pvt Ltd.