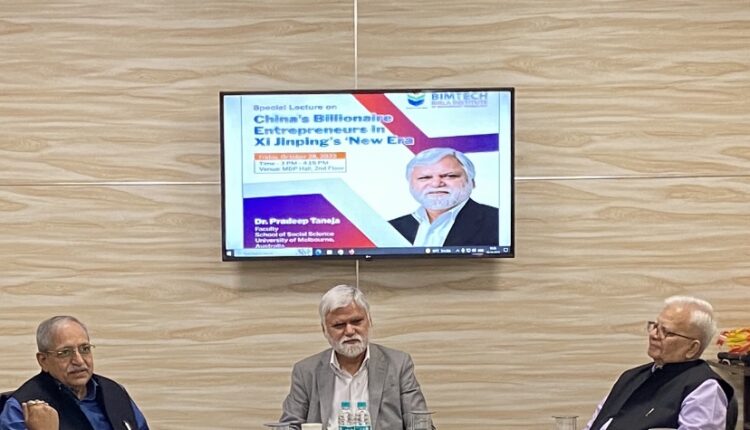 Billionaire Entrepreneurs sidelined in China, facing crackdown, says expert at BIMTECH
Greater Noida, 28th Oct: Dr. Pradeep Taneja, Faculty, School of Social Science, University of Melbourne on Friday delivered a lecture at BIMTECH Greater Noida on China's Billionaire Entrepreneurs in Xi Jinping's New Era.
Dr. Taneja shared how Chinese billionaire entrepreneurs thrived before the Xi Jinping era by foraying into the Chinese Communist Party and making use of the system to produce their wealth. But when Xi was elected as the general secretary of CCP in 2012, he announced crackdown on corrupt officials and entrepreneurs. A former Member of Standing committee of Politburo was also amongst the people who were arrested on corruption charges.
"The entrepreneurs wanted to make money and still wanted to be a part of the party, but Xi made his intentions clear that he will not tolerate any corruption," said Dr. Taneja.
"After the crackdown, the billionaire entrepreneurs realised that Xi is targeting them and so they started keeping a low profile. Earlier entrepreneurs were feeling they are part of the system, but now they are scared that party may come after them," added Dr. Taneja.
Dr. Taneja also spoke about the crackdown on richest Chinese entrepreneur Jack Ma who was punished for being too outspoken. He had alleged that banks are operating like pawn shops. Since the crackdown, the wealth of Jack Ma has gone down substantially.
BIMTECH Director Dr. H. Chaturvedi, Deputy Director Anupam Verma were present during this special session along with faculty members.