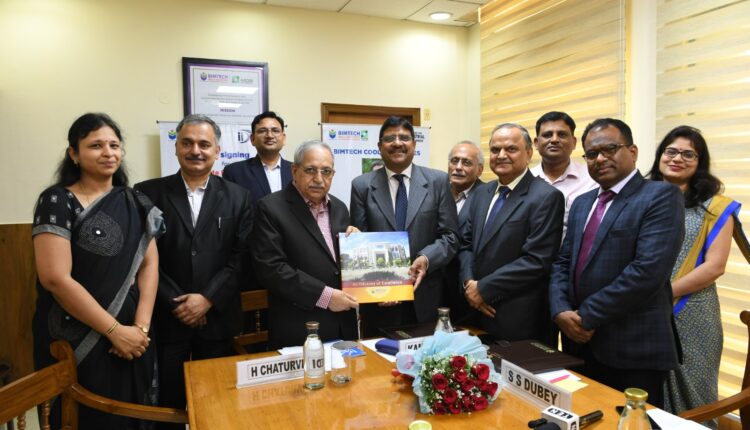 BIMTECH launches advanced certification program in new age entrepreneurship
TEN NEWS NETWORK
Greater Noida, March 3, 2023 – BIMTECH Greater Noida and Institute for Industrial Development (IID – a business incubator under the Ministry of Micro Small and Medium Enterprises) on Friday signed an MoU with an aim of promoting entrepreneurship and startups.

Under this MoU, both the institutes are set to launch a certificate program together.
The MoU was exchanged by Prof. SS Dubey, Chairperson, Center for Online Studies, BIMTECH and  Kamal Bhola, Director, Institute for Industrial Development (IID), in the presence of Dr. Harivansh Chaturvedi, Director, BIMTECH.
With this joint effort of both the institutes, the youth of the country will get access to information from idea generation to business management and successful marketing, online and offline, from subject experts / mentors through this certificate program on entrepreneurship and startups. The main basis of this program is to create new entrepreneurs / startups in the country. This program is meant to give special attention to youth to set up their own successful industry by doing this course.
Commenting on the launch, Dr. H. Chaturvedi, Director, BIMTECH said, "This new program will prove to be not just a course but also an important step towards reducing the problem of unemployment. Along with this, he also said that both the institutes will leave no stone unturned to make this program a success by making full use of their respective skills."
On this occasion, Director of IID Mr. Kamal Bhola also expressed confidence that this program will work to provide complete handholding to the youth in all kinds of entrepreneurial experiments and startups.
Prof. Jyoti Prakash Das, Prof. Manoj Pant, Prof. Monika Mittal, Dr. Poonam Vyas, and Mr. Raj Kumar from BIMTECH and Mr. Ravi Gupta, Mr. Jai Prakash and Mr. Abhinav from IID were present during the launch event.