BIMTECH launches "Vikramshila", Management Development Program Centre for Corporates
ROHIT SHARMA / VISHAL MALHOTRA
Greater Noida :– Today at Birla Institute of Management Technology, a new MDP centre named "Vikramshila" was inaugurated exclusively for conducting Residential Management Development Programs for corporates.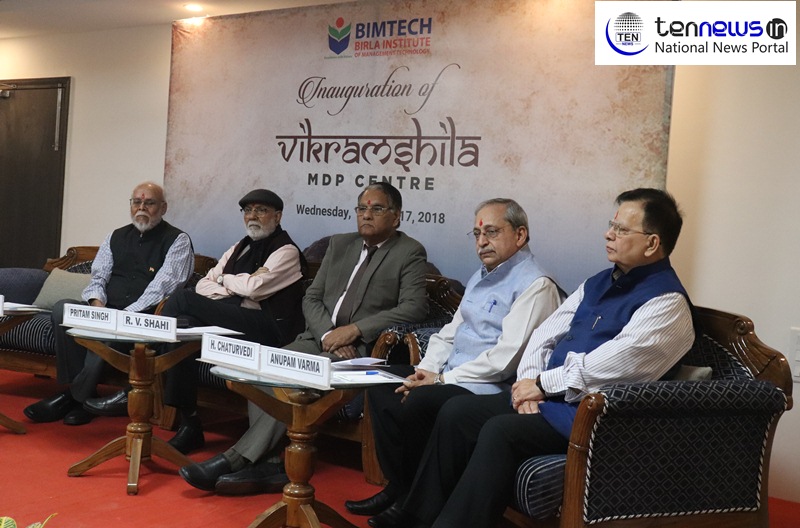 At the inauguration of MDP centre at BIMTECH, Director Dr H Chaturvedi welcomed Chief Guest Padma Shree awardee Dr. Pritam Singh and guests of honour R. V Shahi Ex Power Secretary of Govt of India for inauguration of Vikramshila MDP centre.
While speaking to Ten News and addressing the ceremony, Dr. Chaturvedi said, "We have been conducting various MDP activities since year 2011 and the number of participants we had for MDP activities till date are around 20,000. Earlier , we used to arrange accommodation for participants in various hotels which we found a bit uncomfortable for them. We now have our own MDP centre with accommodations for 26 single participants and these rooms consist of every facility, executives can ask for."
While addressing the ceremony and speaking to Ten News, Dr Pritam Singh , Management Guru said , "This is a very important and big step for BIMTECH in the management and business field of education today. MDP centre is one of the most important requirements today for every institute like BIMTECH. Vikramshila is a very good name given to this MDP centre. Vikramashila was one of the two most important centres of learning in India during the Pala Empire, along with Nalanda. Vikramashila was established by King Dharmapala(783 to 820) in response to a supposed decline in the quality of scholarship at Nalanda. Atisha, the renowned pandita, is sometimes listed as a notable abbot. It was destroyed by the forces of Muhammad bin Bakhtiyar Khilji around 1193 CE."
R.V. Shahi Chairman of Energy Infratech Private Limited.Addressing the ceremony and speaking to Ten News, said,
"Chaturvedi and I have been talking about opening a MDP centre here in BIMTECH since last many years. Initially, Chaturvedi faced some challenges in order to get the permission of constructing a MDP centre in the campus but as it is said that "Hardwork pays off", Chaturvedi achieved success in constructing a MDP centre in BIMTECH. "
As NCR Delhi is an hub for corporates and MNCs this facility of MDP Centre of par excellence would provide a golden opportunity to them to utilise this facility to provide training programs for their executives .