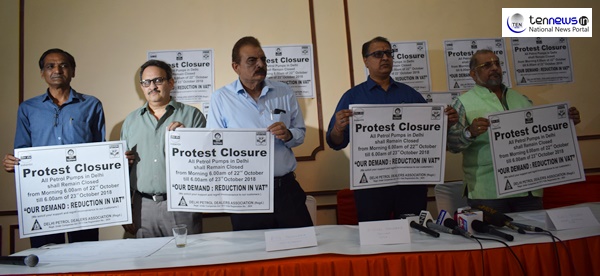 New Delhi: Delhi Petrol Dealers Association (DPDA), the apex body of petrol pump owners in capital have hardened their stand and declared for protest strike of all fuel pumps including CNG in Delhi on October 22 in protest against Delhi government's refusal to reduce Value Added Tax (VAT) on diesel and petrol.
Addressing the Media, the Association said,
"There are about 400 petrol pumps in Delhi which also have linked CNG pumps with them. Both will remain closed in protest from 6.00 am onwards on 22 October and remain closed till 5.00 am on 23 October, 2018.The Union government on 4 October slashed the petrol and diesel price by Rs 2.50 by reducing excise duty and asking state-owned oil firms to bear subsidy. This was matched by several states which reduced local sales tax or VAT."
They further said, "Haryana and Uttar Pradesh, which border the national capital, have reduced VAT, But Delhi government refused to reduce VAT on fuel both petrol and diesel resulting in fuel becoming more expensive than bordering Haryana and Uttar Pradesh."
"Because of high price in Delhi and low prices in states like UP and Haryana, customers are deserting the petrol pumps in Delhi leading to huge drop in sales," Association said.