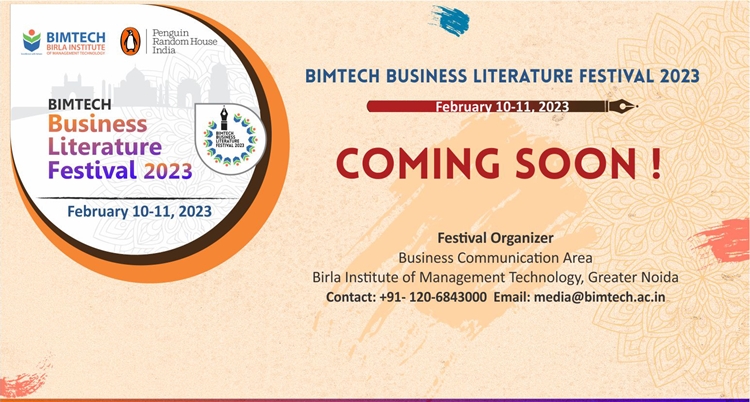 BIMTECH to host Business Literature Festival 2023, inauguration tomorrow
Ten News Network
Greater Noida (09/02/2023): The Birla Institute of Management Technology (BIMTECH) is all set to host its annual business literature festival this week.

The two day event will be organised on February 10th and 11th, 2023.
The festival will be held in the knowledge park situated campus of BIMTECH and is expected to attract a large number of attendees.
The festival will feature a series of talks and discussions by leading authors, business leaders, and experts from various walks of life. The topics for these sessions will cover a wide range of issues related to business, management, and literature, and attendees will have the opportunity to engage in interactive discussions and gain new insights and perspectives.
The festival will be inaugurated by chief guest Bhupender Yadav, Union Minister of Labour and Employment, who will deliver the keynote address too.
The literature festival is aimed at outlining the importance of literature in shaping the business world and the role that literature can play in promoting innovation and creativity.
BIMTECH has a long-standing tradition of promoting literary events on its campus, and the business literature festival is one of the largest and most popular events in its calendar. The festival provides an excellent platform for students, faculty, and the wider business community to connect, network, and engage in thought-provoking discussions.
The festival is expected to be a huge success, and attendees are encouraged to register early to secure their spot. With an exciting lineup of speakers and a focus on the intersection of business and literature, the festival is sure to be a valuable and memorable experience for all attendees.