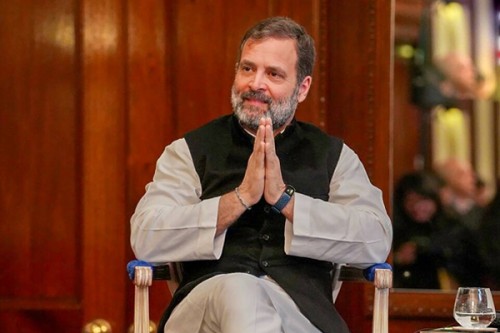 BJP Demands Apology from Rahul Gandhi for Remarks on India; Congress Refuses to Relent
Ten News Network
New Delhi (India), March 16, 2023: Amid a massive standoff between the ruling Bharatiya Janata Party (BJP) and the opposition Congress, Member of Parliament Rahul Gandhi arrived at Parliament on Thursday, with the BJP demanding an apology from him for allegedly insulting the Indian Parliament on foreign soil.

Gandhi, who had recently made remarks on Indian democracy being under attack, responded by saying that "I did not say anything anti-India" during a London seminar and added that "I was willing to speak inside Parliament if allowed."
The BJP has been demanding that Gandhi apologize for his comments made during the seminar, with Union Law Minister Kiren Rijiju reiterating the demand today.
However, Congress has refused to back down, stating that there is no question of an apology. Congress President Mallikarjun Kharge also accused the BJP of conspiring to ignore their demand for a Joint Parliamentary Committee probe into the Adani-Hindenburg issue and not discussing important issues such as unemployment and inflation.
The war of words between the two parties continues, with the BJP accusing Gandhi of using language that is anti-India and the Congress refusing to relent on their demands.
Prime Minister Narendra Modi had also taken a veiled swipe at Gandhi over his remarks, saying that questions were being raised on Indian democracy from the soil of London. The situation remains tense as both sides refuse to budge from their respective stances.