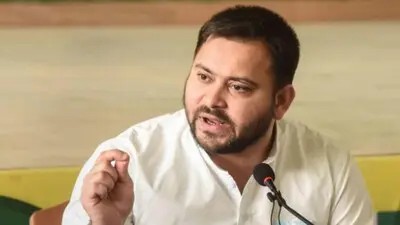 Delhi High Court directs Bihar Deputy CM Tejashwi Yadav to appear before CBI on March 25 in land-for-job case
Ten News Network
New Delhi (India), March 16, 2023: The Delhi High Court has summoned Bihar Deputy Chief Minister Tejashwi Yadav to appear before the Central Bureau of Investigation (CBI) on March 25 in Delhi in connection with the land-for-job case.

The CBI has assured that they will not arrest Yadav and have requested his physical presence. Yadav's counsel has informed the court that he will appear as per the summons on the mentioned date.
The Rashtriya Janata Dal leader had moved the Delhi High Court on Wednesday, challenging the summons issued to him by the central agency. Yadav has argued that the allegations primarily revolve around his father, Lalu Prasad, and other officers and that he was a minor when the alleged offenses were believed to have been committed. It is noteworthy that Yadav turned 18 in November 2007.
It is pertinent to note that Yadav's plea before the high court came on the same day his mother Rabri Devi, father Lalu Prasad, sister Misa Bharti, and others were granted bail by a Delhi court in the same case.
The CBI, in its chargesheet, has accused Lalu Prasad's family members of irregular appointments in the railways in return for land parcels gifted or sold to them during his stint as railways minister between 2004 and 2009.
The charge sheet has also alleged that the candidates or their immediate relatives sold their land to the then railroad minister's family members at highly discounted rates. The chargesheet was filed on October 10 of last year, and criminal conspiracy and corruption charges have been filed against 16 accused persons.