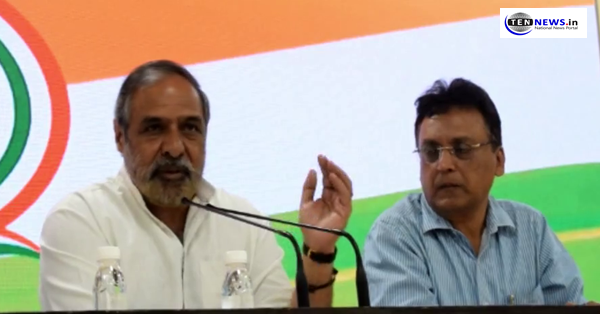 BJP government is destroying credibility of Indian data, fudging numbers and inflating figures: Congress
SHAIHZAD ABID/ JITENDER PAL- TEN NEWS
New Delhi: (30/03/2019) On March 30, former Union Cabinet Minister, Anand Sharma targeted PM Modi led NDA government for destroying jobs and fudging government data.
Addressing a press conference at party headquarters in New Delhi, Anand Sharma said "The government is destroying the credibility of Indian data by embellishing the data, fudging numbers and inflating figures. The fact is that there has been an monumental mismanagement of Indian economy under his watch. It is not galloping economy but a gasping economy, a struggling economy which has also suffered because of the reckless decision of Prime Minister Modi."
Sharma said that saffron party claims that they are servicing the engine of development but on the other side four engines of the Indian economy that are investment, manufacturing, exports and capital formation were deteriorated in the past five years. .
Targeting BJP's development, the leader said, "how can you keep on claiming that we are the fastest growing (economy) by not creating jobs but by destroying them. There is a huge contradiction. This economy is not creating jobs. Exports have stagnated for five years, manufacturing has gone down, gross fixed capital formation has remained hovering over zero. National investment rate has fallen. These are the facts. The government has gone into heavy borrowing,"
Sharma also said that "BJP spent Rs 4,397 crore on advertisements in last 3 years.