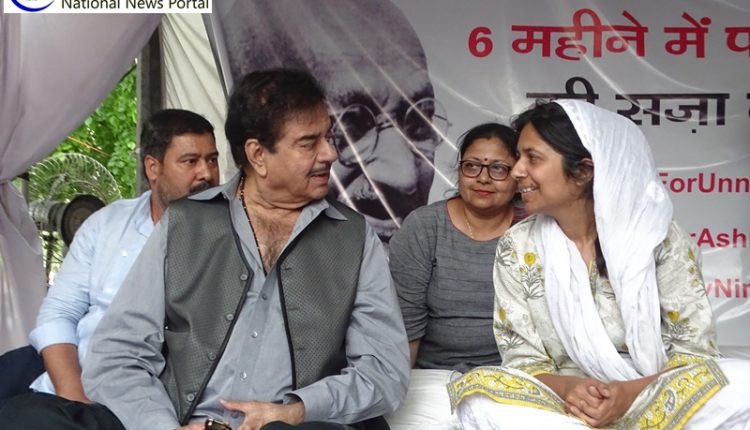 New Delhi: Former Union Minister and BJP MP, Shatrughan Sinha on Monday said that government should frame strict law against rape and adviced that by setting up fast track courts and time bound justice on rape cases the government can ease off rape cases.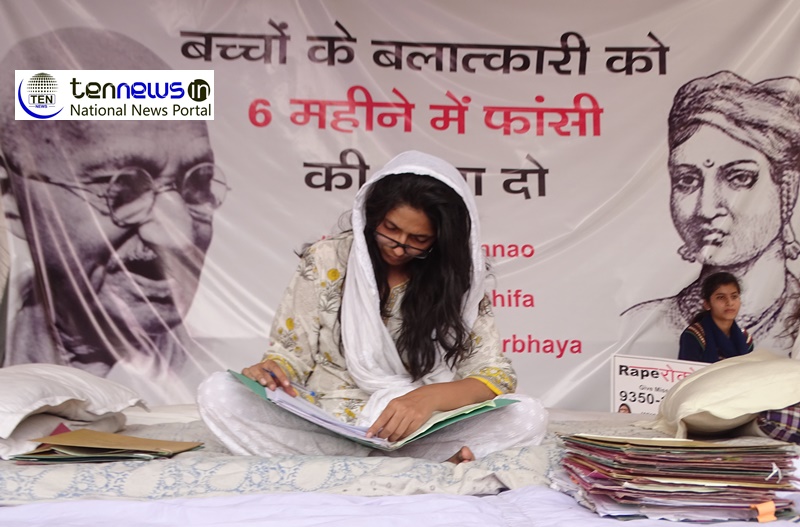 He was addressing the gathering at Rajghat where Delhi Women Commission chairperson, Swati Maliwal has been seating on indefinite hunger strike since April 13, 2018 demanding strict anti-rape law, justice within time frame and punishment to the culprits within six months.
While addressing Sinha said, "The Kathua rape and murder and Unno rape incident has shaken me. I'm in fear as a father. Government should take strict action against the offenders and frame strict anti-rape law."
"Today, I'm here not as a leader and MP but as a father and citizen of India who is deep fear with the recent developments in the country and disappointed with the government's apathy to deal with this cases," Sinha added.
Demanding for strict anti-rape law, Delhi Women Commission Chairperson, Swati Maliwal has been on indefinite strike at Rajghat. On the fourth day of strike, BJP MP, Shatrughan Singh and member of Delhi traders association extended their support to the strike.
Hundreds of women and men gathered at the hunger strike and fueled the agitation
.
Sinha further said, "She is fighting for the right cause. As I heard about her indefinite hungers strike I was eager to visit this place and today I'm here to extend my support. Moreover, what Delhi CM Arvind Kerjriwal demanded from this stage yesterday, I totally agree with it and I am extending my support to his demands and statement."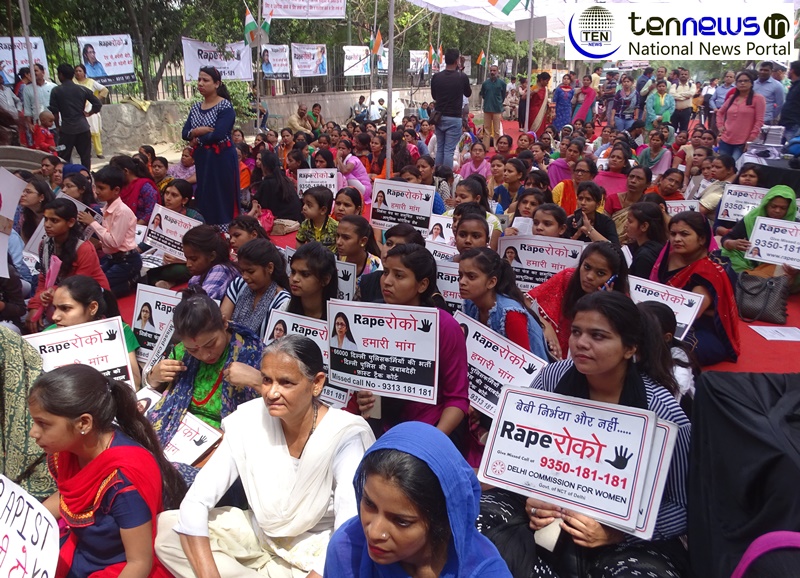 Delhi CM Arvind Kerjiwal and former Finance Minister Yashwant Sinha visited the Rajghat in last three days and extended their support to her cause. Both the leaders came down heavily on the government and demanded strict anti-rape law.
Shatrughan Singh is one of the biggest critics of the BJP led NDA-government and without taking name of his party and leader, he said, "We are going through difficult times where chaos is prevalent across the country. We have to fight for the right cause until the justice prevails."
Later, DWC Chief Swati Maliwal said, "Shatrughan Sinha's presence has given a great support to us and I thank him for his support to this noble fight. Despite being on hunger strike, I'm health and can seat for 10 more days."
"Since first day, our demands are simple, frame stringent anti-rape law, setup fast track courts for rape cases, and justice should be given to rape victim within six months," she added
Later, she alleged, on Monday morning that Delhi police tried to shoo her away from this hunger strike site by deploying numbers of police personnel and faking with the medical certificates, however, their attempts foiled. "I will fight until the government assure for the strict law," she asserted.