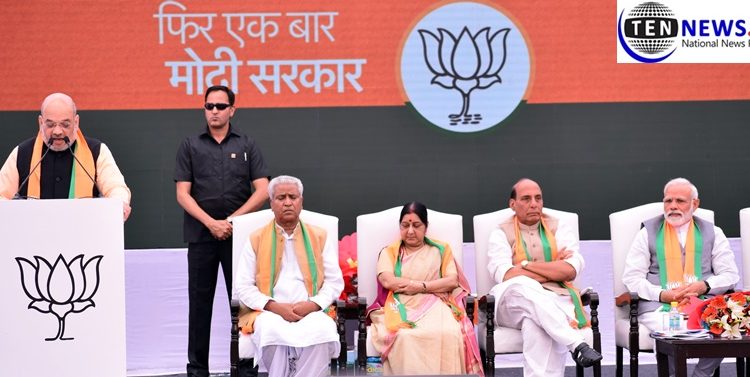 BJP releases its party manifesto: Here are the key takeaways from Modi's govt 'Sankalp Patra'
Prerit Chauhan (Photo/Video) By Lokesh Goswami Ten News Delhi :
New Delhi: BJP today released its party manifesto for the Lok Sabha Election 2019. Both the document and speeches of the leaders, succinct and confined to their respective areas.
PM Modi at the BJP Manifesto Said that in 2014 the goal of his party was to fulfil needs of common Indians, and the period of 2014-2019 was spent in delivering on this. From now onwards the path will be to fulfil aspirations of the average Indian, and that is reflected in the manifesto.
The good thing about BJP manifesto is that it has nothing that is a game-changer. It makes no unrealistic promises beyond what may be deliverable.
Here are the Key Highlights of BJP's Manifesto Major Promises at a Glance:
– 100 lakh crore investment in infrastructure
– Housing for all till 2022
– A govt constituted national trader's body to look into demands of the trader community
– Jal Shakti mission to provide drinkable water to every household
– Zero-Tolerance approach to terrorism
– Strengthening Armed forces
– Combating inhltration
– Enactment of the Citizenship Amendment Bill
– Financial support to farmers under Pradhan Mantri Kisan Samman Nidhi Yojana Pension,
– Establish 1.5 lakh health and wellness centres under Ayushman Bharat
– Ensure 100% disposal of liquid waste and reuse of waste water
Other promises:
– Set up Rashtriya Vyapar Aayog
– Take forward the idea of simultaneous elections
– 100 per cent electrification of all households
– LPG cylinders to all poor
– Increase seats in top law, engineering colleges
– Toilet, drinking water in every home
– 100 per cent waste management
– 75 new medical colleges, post graduate institutes
– 1.5 lakh wellness centres under Ayushman Bharat
– Clean Ganga by 2022