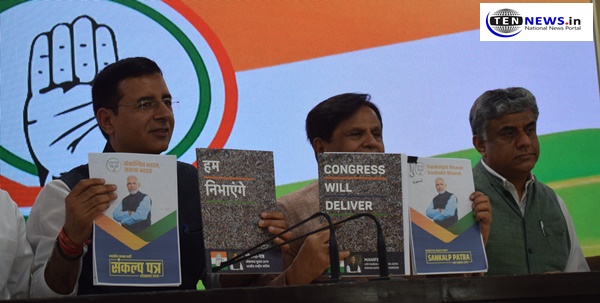 Congress Mocks BJP Manifesto, This is not 'Sankalp Patra', this is 'Jhaansa Patra', says Randeep Surjewala!
Vishal Malhotra / Jitender Pal
New Delhi (08/04/2019) : Thrashing the BJP, Congress on Monday said the BJP government at the centre had failed to mention anything about "employment and jobs" in its manifesto.
"Jobs didn't find any mention in the BJP manifesto," Congress spokesperson Randeep Surjewala said. Calling the BJP's Sankalp Patra a "lie", Surjewala said the BJP promised "One Nation, One Tax" but changed it "900 times". "Despite that, there has been a shortfall of ₹1 crore in revenue collection, said the Congress leader, adding that Angel Tax caused over 70 per cent start-up issues."
Targeting BJP, Congress leader Ahmed Patel said, "The country remembers what the BJP promised — ₹ 15 lakh to every citizen, employment to over 2 crore people, doubling of the farmers' income and women security. The BJP government has failed on all these promises. The people of the country won't forgive you (BJP government)".
"The BJP had promised to eliminate corruption. But it has not appointed Lokpal in five years. Over 14.5 lakh RTI requests are pending. Around 40 per cent RTIs were rejected in 2018 alone," said the Patel.  "In 2014, they promised 'Chowkidar', in 5 years, they delivered 'Chor'," Surjewala added.
Delhi CM and AAP leader Arvind Kejriwal said the BJP unveiled a fresh set of "jumlas" without telling the country what is the fate of its 2014 "jumlas". "Modi-Shah don't have the courage to speak on why demonetisation was done? What happened to two crore jobs? Why were farmers pushed towards destruction?" he asked.