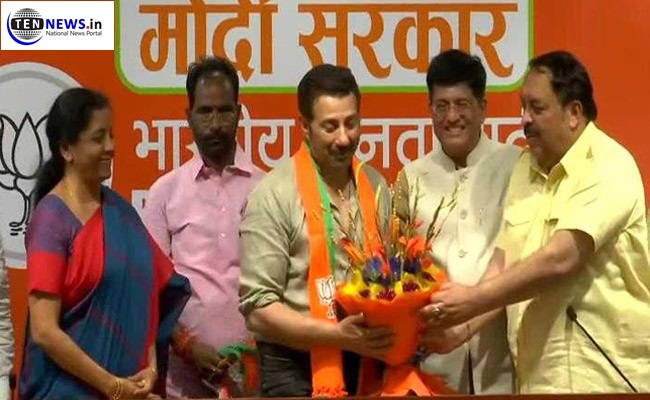 Bollywood Star Sunny Deol Joins BJP, may contest from Gurdaspur district in Punjab
Vishal Malhotra
New Delhi (23/04/2019) : Film actor Sunny Deol, son of Bollywood superstar Dharmendra, joined BJP today. BJP on the other hand hailing his roles in "patriotic films" and referring to his "dhaai kilo ka haath" dialogue, at the time the saffron party's key poll themes are nationalism and strong leadership.
BJP, which proudly talks of "56- inches chest" of PM Modi is obviously mindful of the gains that could accrue to it with the addition of "dhaai kilo ka haanth". Deol joined the Bharatiye Janata Party in presence of Union Ministers Piyush Goyal and Nirmala Sitharaman.
Deol, who have acted in dozens of Bollywood blockbusters including JP Dutta's recreation of the Longewala battle of 1971 in acclaimed movie "Border" said, after joining the party that "Prime Minister Narendra Modi should get a second term".
Goyal highlighted the role played by Deol in "patriotic" films while Sitharaman said the film actor "understands the pulse of the people".
Deol could be fielded from Gurdaspur seat in Punjab, earlier represented by another Bollywood star Vinod Khanna till he breathed his last breath in 2017. Hema Malini had earlier also campaigned for Vinod Khanna, when the latter was fighting from the seat in 1999. 20 years later, somebody from Hema's family could contest from the seat.