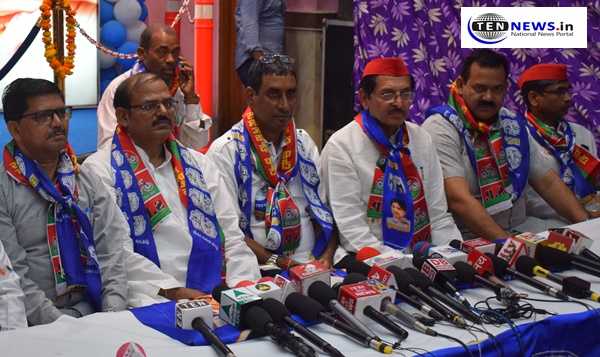 BSP Supremo Mayawati to address a rally in East Delhi Tommorow!
PRERIT CHAUHAN/JITENDER PAL- TEN NEWS
New Delhi:(09/05/2019) Just three days ahead of poll, Bahujan Samaj Party (BSP) Candidate from North East Delhi Rajveer Singh today released his manifesto, referring it as 'Sarva Samaj Vikas Patra & Shapath Patra' which focuses on specific problems and possible solutions to address the issues.
The BSP big promises for North East include Education, Health and Employment to All, Clean Water Supply, Better Transport & Road, Ambedkar Auditorium, Girls hostels, Technical Institutes, Kendriya Vidhalaya among other infrastructural and social interventions.
Releasing the manifesto at a Press Conference here today, Rajveer Singh outlined his priorities and said he has got support from all sections of society and some social organizations also extended to the party.
Senior BSP leaders Choudhary Surender Kumar, Delhi State Chief, and East Delhi Candidate Sanjay Gehlot were also present at the Press Conference and they said that this part of Delhi was always deprived of development. "We have got support from 'Bahujan Samaj' (All Communities) and our candidates will ensure all- round and inclusive development of this part of Delhi. We will try to make it the best part of Delhi," Choudhary Surendra Kumar told reporters.
Addressing the Media, Rajveer Singh said that BSP is committed to fulfill all commitments as our ' Shapath Patra' is based on ground realities while other candidates are just making unrealistic commitments and promises.
Singh's manifesto for North East Delhi clarifies that inclusive and all-round development of the constituency would be his top priority.
He further said, Tommorow BSP supremo Mayawati would address a rally in Singh's favour at JTB Enclave in Dilshad Garden. Preparations are on full swing. The proposed rally has further gulvanised the party cadre. Despite the fact that the rally is being organized on the day when poll publicity ends as Delhi will go on poll on May 12, Singh expects that it would tremendously impact the minds of voters in his favour.