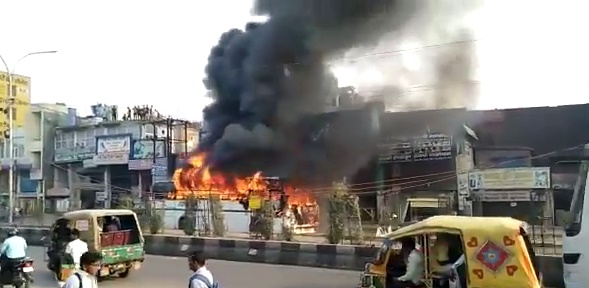 Bus catches fire in Noida, passengers manage to escape unhurt
Saurabh Kumar (Photo-Video) Lokesh Goswami Tennews New Delhi :
Noida: A bus caught fire on Wednesday at Bhangel area in Noida. In quick succession, the bus was engulfed in huge fire.
As per a report, all the persons travelling in the bus managed to escape the fire safely.
Arun Kumar Singh, Chief Fire Officer with Department of Fire Service, Gautam Budh Nagar said that an incident of fire in private bus was reported in the morning. "The bus was moving on main road. When it reached to a market in Bhangel, it caught fire," he said.
Fire tenders reached the spot to douse the fire. The exact reason for fire is yet to be ascertained.
The officer admitted that it took them little time to reach the spot as the incident occurred during office hours and roads were not free due to traffic jams.
Singh said, "The fire was brought under control shortly after fire tender reached the spot. No causality reported from the incident. But the inquiry is in progress with local or eyewitness to find out how it caught fire"