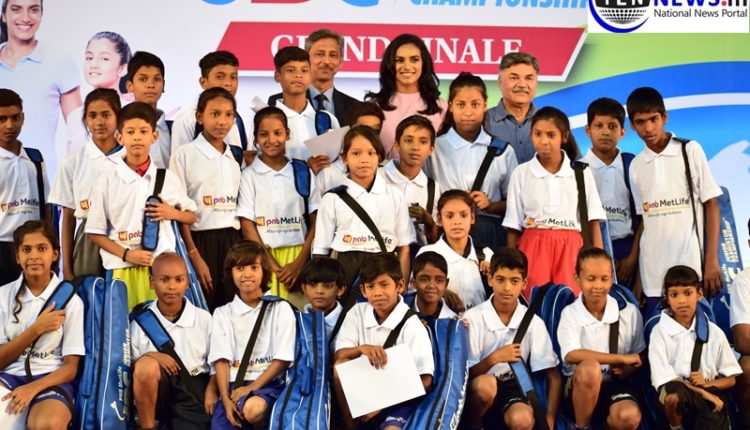 BWF World Champion PV Sindhu felicitates winners of Junior Badminton Championship 2019
Vishal Malhotra (Photo-Video) Lokesh Goswami Tennews New Delhi :
New Delhi: PNB MetLife India Insurance Company Limited (PNB MetLife), among the top 10 private life insurance companies of India (fiscal 2019, Source – CRISIL), today concluded the fifth edition of PNB MetLife Junior Badminton Championship with a grand award ceremony at the Indira Gandhi Indoor Stadium (Delhi). The winners and runners-up from 9,500+ participants across 10 cities of India in the five age categories: U-9, U-11, U-13, U-15 and U-17, were felicitated by world champion PV Sindhu .
PV Sindhu, BWF World Champion, Olympic Medallist and the brand ambassador of PNB MetLife, said applauding the young champions, "The huge numbers of participants from every corner of the country stands testimony to the admiration that this sport has earned. The sheer quality of game-play and technique showcased by these young shuttlers prove that the country is bubbling with talents, which need to be harnessed to drive India as a world leader in the sport. I am extremely happy to be associated with PNB MetLife who has not only provided a platform for the young badminton aspirants to showcase their talent, but also has created a holistic ecosystem for the talented shuttlers through JBC Boot Camp, that aims to sharpen the finer techniques of the game through online coaching and grooming. Badminton has come a long way to attain the status that it has today, and I am sure that gifted badminton players such as these will take it to new heights."
The winners were felicitated by .V Sindhu, BWF World Champion, Olympic Medallist and the brand ambassador of PNB MetLife, Shri Sunil Mehta, MD & CEO, Punjab National Bank and Ashish Kumar Srivastava, MD & CEO, PNB MetLife.
As a part of its endeavour to promote badminton, PNB MetLife has been organizing Junior Badminton Championship for the fifth year in a row. Year on year, there has been a rising popularity of this event and the fifth season of PNB MetLife Junior Badminton Championship received participation from 9,500+ children from across the 10 cities, surpassing the previous year's count of 8500.
Congratulating the winners of the Championship, Ashish Kumar Srivastava, MD & CEO, PNB MetLife said, "I want to congratulate all the winners and thank all their coaches for their valuable guidance that led the participants to victory. I believe that physical fitness plays a vital role towards the overall well-being of a person. Through JBC, we aim to encourage sports and an active lifestyle amongst children. The growing participation of JBC every year as well as the popularity JBC Boot Camp is gaining, solidifies my belief that together, we can build a healthier, fitter and stronger nation."