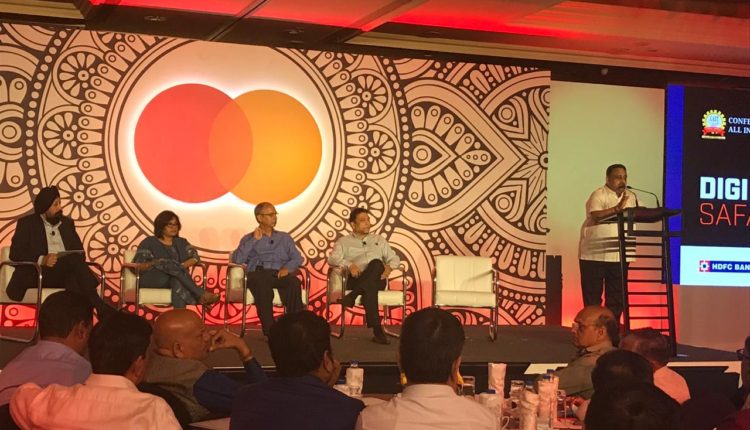 CAIT announces Biggest Launch of Digitalisation for 7 Crore Traders, 'Digi Vyapari-Safal Vyapari' to transform rural and urban economy!
New Delhi: In its endeavour to accelerate the acceptance of digital payments among merchants across Country, linking them with e commerce portals by creating their e commerce showrooms and empowering them with digital technology in furtherance of Digital India initiative of Prime Minister Shri Narendra Modi, the CAIT has partnered with HDFC Bank, Mastercard, Common Service Centres (CSCs) of Ministry of Electronics & Information Technology (Meity) and Global Linkers. This first-of-its kind grassroots initiative named as " Digi Vyapari-Safal Vyapari "will transform the rural and urban economy and benefit small merchants and traders even in the remotest of places across the Country.
India has a network of over 5 lakh CSCs that have at least one-two village-level entrepreneurs and employ about 12 Lakh people, who are digitally delivering several services to the citizens. The village level entrepreneurs (VLEs), who run CSCs franchisee in rural areas have the power to connect with local communities. They will now become instrumental in driving digital financial literacy and adoption programs in remote locations which otherwise don't have access to formal banking. The 40,000 trade associations affiliated with CAIT will play the role of catalyst in bringing traders and CSCs together for availing its benefits.
CAIT Secretary General Praveen Khandelwal said that realising that e commerce will play an important role in business, the CAIT will make live showroom of traders on e commerce portal which will have integrated facilities of digital payments, logistics and live chat. The portal will do not only B2B but B2C business activities also and will be linked with Business Sans Border program of Singapore Government which will provide overseas markets to Indian traders. He further said that it is a unique initiative being introduced for the first time in the country that will harness the reach and influence of the CSCs to achieve deeper penetration of digital payments in the country. With the right balance of physical and digital infrastructure through collaboration with Mastercard and HDFC, there will be further thrust to the digitization of MSMEs, especially in terms of availability of capitaland incentivising digital payments."
CSC e-Governance CEO, Dinesh Tyagi said, "I am excited to embark on this new initiative that will aim to empower India's vast base of small traders who are the backbone of India's economy. By associating with CAIT, HDFC Bank we stand committed to PM Modi's vision of digital India."
Speaking on this partnership, Smita Bhagat, Head – Government & Institutional Business and e-Commerce, HDFC Bank said, "We are proud to partner in this initiative that will make a big difference in the lives of small traders and merchants by ensuring that they have easy access to the business finance and banking resources. It also ties in well with our ongoing social programmes which straddle financial literacy, financial inclusion and income-generating skilling at the bottom of the pyramid."
Ravi Aurora, Executive Director, Global Policy Affairs and Community Relations, Mastercard said, "Mastercard has worked for years with CAIT to enhance awareness and adoption of digital payments in India. Through this enhanced partnership and initiative, we want to empower village-level entrepreneurs as well as build their capacity to help digitize the businesses of Indian traders. This initiative will play a crucial role in driving financial inclusion and help in the penetration of digital payments to the last mile. This announcement complements our India focus and our recently announced billion dollar commitment in furtherance of Digital India."
Sameer Vakil, Chief Executive Officer, GlobalLinker said "Our vision of making business growth of SMEs globally, simpler, more pro table and enjoyable, receives a huge boost with our partnership with CAIT and in the use of GlobalLinker to digitise India's SME Traders. We stand commi ed to digitising and connecting SMEs, globally and are proud to be supporting Make in India ( for the world) and Digital India in its truest form."