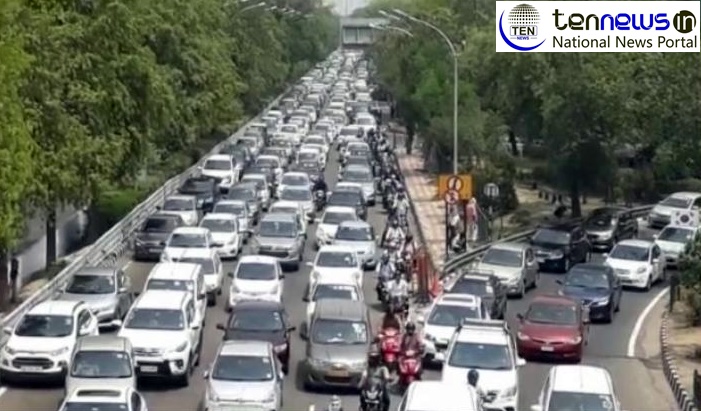 To Cater to increasing population, Greater Noida Authority to soon implement advanced traffic management plan
Saurabh Kumar
past few months. Now a days as city is growing rapidly some of the areas have now started facing jam like situations in peak hours. So for making Greater Noida free from jam it has now been decided by the concerned authority that some major changes will be made in traffic management of the city.
Firstly such areas will be identified which receive heavy rush of traffic such as Pari Chowk, Kisan Chowk , entry point at Surajpur and many other such spots and under pass and over bridges will be made at these places. If required changes will also be done in the design of the Roundabouts and U-turns.
Authority has now asked the interested consultant companies for the tenders in this regard and within a month the process will start. After the tender the companies will give a presentation to officers about their planning and new traffic system that they can implement and based on these analysis the best company will be selected and a MoU will be signed with the company. After that in next six month company will present the detailed planning of the whole project. The work on the project will also start soon after.
Greater Noida is the only city in the North India where vehicles don't have to halt over red light as the city is free from traffic signals on roundabouts. Master Plan 2021 was framed by the authority to cater to the population of 12 to 13 lakh . Earlier as per 2021 master plan, land pockets in Greater Noida west were for industrial use but later it was converted into housing society. This housing societies will have around 5 lakh flats in future which will be accommodating a population of around 22 lakhs. Sectors like Alpha, Beta, Gama, Chai, Sigma and many more will also have a population of about 10 to 12 lakhs. So the total population will be around 32 to 34 lakhs which is much more that of master plan.
Metro services in the city will also become operational sooner which will also bring more development, leading to a rapid increase in population. So to cater all this city needs an upgraded traffic management system.