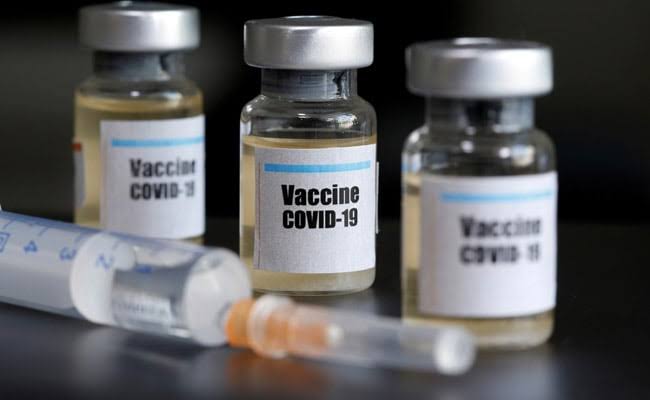 Challenges and possible wayouts in Massive COVID-19 Vaccination Drive of India
By Dr. S K Varshney, Head & Advisor, International Cooperation Division & Dr. Charu Agarwal, Scientist C, International Cooperation Division, Department of Science and Technology under Ministry Of Science and Technology, New Delhi
In India, nearly 30 candidate vaccines for COVID-19 are being actively pursued. Currently, about 5 vaccines are in different stages of clinical trials. These include 02 vaccines which have been approved for emergency use in India and three are indigenously developed vaccine candidates which are under trails. The details of these 5 vaccines are as follows: 
Phase III trial of Inactivated whole virion vaccine by Bharat Biotech International Ltd (BBIL)

(Approved for emergency use)

Phase II/III clinical trials of ChAdOx1-S, in-licensed from University of Oxford/AstraZeneca, by Serum Institute of India Pvt. Ltd. (SIIPL),

(Approved for emergency use)

Phase I trial of recombinant protein subunit vaccine candidate by Biological E., 

Phase II clinical trial of DNA vaccine candidate (ZyCoV-D) by Zydus Cadila, 

Adaptive phase II / III clinical trial for the Russian Sputnik V vaccine by Dr. Reddy's Laboratories Ltd.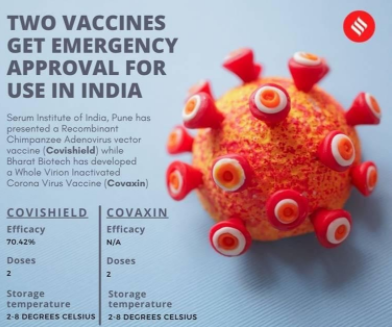 Apart from above mentioned vaccine candidates, there are some other vaccine candidates that are in advanced pre-clinical stage of development, and many are in early stages of development.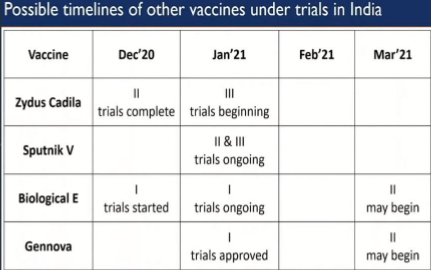 On 9th Jan 2021, at a high level meeting Hon'ble PM Shri Narendra Modi reviewed the status of pandemic along with the preparedness of states and union territories. On 11 Jan 2021, Hon'ble PM Shri Narendra Modi has discussed the covid-19 Vaccination plan with chief ministers of all the states. The COVID-19 vaccination plan is going to start on 16th Jan 2021 in India. PM Modi Said, "Around 3 crore healthcare workers and frontline workers will be vaccinated in the first phase of vaccination. In the 2nd phase, those above 50 years and those under 50 years with co-morbid conditions will be vaccinated. The cost of vaccination of first phase will be borne by Central Government". He added that both the vaccines are more cost effective than any other vaccines in the World [1]. 
PM Modi said that public representatives will not be counted in front line warriors of the first phase. On 12 Jan 2021, CEO of Serum Institute of India (SII), Adar Poonawala said that first100 million doses of "Covishield" will be given at a special price of Rs.200/dose to the GOI only to support common man, vulnerable, poor and health workers. On Tuesday, the first consignment of Covishield, the Covid-19 vaccine developed by Oxford University and AstraZenca and manufactured in India by the Serum Institute, was dispatched to 13 locations from the Pune-based firm [2]. 
NITI Aayog member and chairman of the National Expert Group On Vaccine Administration for Covid-19 (NEGVAC), Dr VK Paul said, "We should have no doubt that the two vaccines approved are the safest of the vaccines. Side effects are negligible. There is no risk of any significance, let's be reassured. We are telling you this truthfully and with responsibility" [3].
Health Secretary, Mr. Rajesh Bhushan has mentioned that Government of India is purchasing the SII's covid-19 vaccine Covishield developed by Oxford University and Astrazeneca at Rs.200/dose and Bharat Biotech's Covaxin at Rs.206/dose. He added that India's regulators are looking for 04 more COVID-19 vaccines which are in pipeline developed by Zydus Cadilla, Russia's Sputnik-V, Biological E and Gennova [3].
The India's drugs regulator, Drugs Controller General of India (DCGI), has approved two vaccines namely "Covishield" developed by Oxford University and Asrazeneca, being manufactured by the Serum Institute, and indigenously developed "Covaxin" of Bharat Biotech and Indian Council of Medical research (ICMR) for restricted emergency use in India [1].
On 12 Jan 2021, first batch of Covishield has reached the Indira Gandhi International Airport, Delhi. The handling and distribution of vaccines will be facilitated by the IGI Airport Authority under Project Sanjivani. The vehicles carrying vaccine will be escorted by the Delhi Police to ensure the safe arrival of the vaccine to its designated places in the capital [4]. On the other hand, Covaxin developed by Bharat Biotech in collaboration with ICMR may take a few days or weeks to be available [5].
Possible Challenges ahead and Remedies to these challenges
India covers around 2/3 global need of vaccine as it is one of the largest producer of vaccine. India has a rich heritage of vaccination programme which one of the world's largest health programmes which targets nearly 55 million people to get vaccinated. We have the best track record in terms of polio vaccination across the country. 
After approval of both the vaccines by DCGI, it is now the real time challenge for India to handle, distribute and vaccinate the people of 2nd largest population of the world. In India, the distribution and handling of the vaccine will be a big challenge to deal with because according to WHO, the COVID-19 vaccine requires the storage temperature below 0℃. The complex exercise of distribution can't be underestimated as the cold chains will be required to transport and deliver the vaccine to rural and urban areas. The urban areas may meet the challenge as the COVID-19 vaccine distribution will be a bit easier in there due to better connectivity, storage facilities, cold chains and approachable resources etc. for the vaccines but in rural areas, the task may be tedious. 
How the vaccine could be stored and distributed?
Due to the climatic conditions of India, there are constraints in choosing the appropriate COVID-19 vaccine to be used in vaccination drive of India. The vaccine developed by Pfizer/BioNTech which is currently being administered in several countries must be stored at -70℃ and can only be moved a limited number of times. That is why this vaccine could not be preferred in India as summer temperature in India may reach upto 50℃ [6].  Covishield is administered in two doses given between 04 and 12 weeks apart. It can be safely stored at temperatures of 2℃ to 8℃, about the same as a domestic fridge, and can be delivered in existing health care settings such as doctors' surgeries. This makes it easier to distribute than some of the other vaccines. 
Most of the vaccines may be transported and distributed at temperature between 2-8℃ with the help of cold chain. Blue star has a major share of pharmaceutical cold chain products and as per its managing director, B Thiagarajan, India has largely managed vaccines and immunisation drives well. According to him they are ready and well equipped if the vaccine need to be stored at 2-8℃ but if it needs to be stored at -40℃ then it will be a challenge for them.
Cold storage capacity of India is the largest but it mainly stores flowers, food, chemicals and health care products and some of the capacity is not as per the international standards of hygiene when it comes to vaccine storage. However, the consistency of the cold chain can't be ensured completely [7]. A small break in cold chain if exposed to high temperature may cause the vaccine to lose its potency.
India is 2nd largest population of the world and most of the population lives in rural areas of the country. It may be a challenge to reach every nook and corner of the country without breaking cold chain. Hilly terrains already poses a threat when it comes to deliver goods in there and here we are talking about the use of cold chain to deliver the goods. The weather conditions may also give a hard time to the delivery system. As most of the country is connected through railways, Railways may be helpful to keep on the cold chain while maintaining the possible requirements for the vaccine delivery.
Who will do the vaccination? 
Most of the oral vaccinations are done by government employees without any prior training at certain intervals but COVID-19 Vaccine is not an oral vaccine. The timeline is also very compressed and it should be done within 3-6 months. Keeping this in mind, human resource is going to be a big challenge because injections may be given only by medical professionals, doctors or nurses. As it is not the oral vaccination such as polio vaccination, there will be requirement of trained work force who may vaccinate the people through injections. Now the question arises if we have this much of trained workforce with us and how they may be arranged [8]. 
Fortunately, we have a large number of hospitals, medical colleges, nursing training institutes etc. in semi urban, rural and many other parts of the country which may provide the trained workforce to achieve the goal. But still a question arises if that will be enough to sustain this massive drive?
Need of Logistics 
For vaccination programme, it is important to have a big number of auto-disposable syringes, needles, medical glass vials and some other usual stuff which will be required during the vaccination. The main challenge and worry is that there are chances of infection if the needles are reused. As huge outbreaks of HIV, Hepatitis C have been seen in other countries like Egypt.
The biggest syringe maker of India has said that they are producing a billion such syringes to meet the rising demands [8]. 
India's preparation against this challenge
Government of India was doing preparations for weeks to make this massive as well as ambitious vaccination drive a huge success. Two rounds of mock drills have already been held on December 28-29, and January 2, respectively, covering 285 session sites in 125 districts in all states around the country. Hon'ble S&T Minister, Dr Harsh Vardhan, said, "Some 96,000 vaccinators have been trained, including 2,360 in a National Training of Trainers, and over 57,000 in district-level training carried out in 719 districts. More than 75 lakh beneficiaries have been registered on the Co-WIN platform, which will provide real-time information on vaccine stocks, their storage temperature, and individual beneficiaries of the shots". He added that the country's cold chain infrastructure has been sufficiently upgraded to ensure last-mile delivery, and adequate supplies of syringes and other logistics have been arranged [5].
To serve the massive immunization programme, India is well prepared and has a robust network of cold storages in each state for the storage of vaccine and which may provide the vaccine to more than eight million locations. Storing and keeping vaccines cool requires walk in freezers, ice-lined refrigerators, and refrigerated trucks, coolant packs such as dry ice and cold boxes, which help in last-mile delivery. Nearly four million doctors and nurses are involved in the immunisation campaign [7]. 
In India the temperature may rises upto 50℃ in summers, that is why the Indian scientists are working on a vaccine which is heat-stable and may be stored at 100℃ for 90 minutes, at 70℃ for about 16 hours, and at 37℃ for more than a month and more. Prof. Raghavan Varadarajan, a biophysicist and professor at the Indian Institute of Science, and his team have tested this vaccine on animals and found good results. Their research work has been accepted for publication by a peer reviewed Journal. The Secretary, DBT, Dr. Renu Swarup has given her remarks on this study. She said that after this study, newer avenues would open up with regards to having cold-chain independent vaccines [7]. 
Expert says that Hon'ble PM once given the remark that we have a huge election programme and a wonderful election model. According to him, if we may use that election model for vaccination that will be very helpful to deploy vaccine. Vouchers may be given to the families along with set date, time and venue for vaccination [8]. The government of India has made it clear that they will pay for the first phase but they cannot pay for all. In India, Ayushman Bharat Initiative may play a big role under which vaccination of the low class and poor may be done free of cost and for the upper classes of the economic ladder, we may go for co-pay, subsidies etc. Also, the corporate sector of the country may pay for the vaccination of their employees which may help the middle class families too.
References