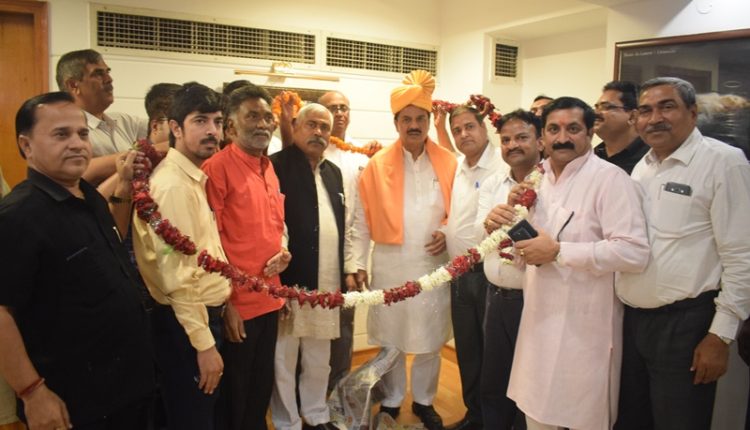 Charishmatic BJP Leader and Union Minister Dr. Mahesh Sharma retains his Gautam Budh Nagar Lok Sabha Seat, share top priorities with Ten News
Talib Khan (Photo-Video) Rahul Kumar Jha Tennews New Delhi :
Noida, (26/5/2019): Union Minister and BJP MP Dr. Mahesh Sharma retained his Gautam Budh Nagar Lok Sabha Seat with a massive margin of 3.36 lakh votes. As per the data given by Election Commission of India Dr. Mahesh Sharma managed 8,30,812 votes in the 2019 elections which is almost double to his nearest rival Satveer Nagar of SP – BSP alliance.
Dr. Mahesh Sharma is a medical doctor by profession and founded the Kailash Group of Hospitals based in Noida. He has also served as the first MLA of Noida vidhan sabha in Uttar Pradesh.
Ten News team spoke to Dr. Mahesh Sharma to know about his priorities and plans for the next 5 years of his term as the MP of Gautam Budh Nagar.
At first, while interacting with us he said, "I thank the people of the GBN Lok Sabha Area for keeping their trust with me and for their immense love and support. And also I thank to 130 crore people of this country who trusted the Bharatiya Janata Party and supported the idea of "Deshbhakti" and "Development". We have a leader like Narendra Modi who is an inspiration to all of us. We can learn from him that if you are focused on developing and welfare of the Nation, no opposition can stop you from winning. Our President Amit Shah is one of the best strategist and all the members of BJP are tied in one sutra by him".
When asked about his priorities for the next five years he said, "I am living here in Noida for the last 37 years and i know what are the major problems people here face. Pollution control is a major concern in NCR and it will on the top of my list to take steps to check increasing pollution level. Other than that, the builder buyer issue is another important problem of the people. The BJP has ensured that an agency like RERA is in place. School Fees Hike is another up and coming issue and we will ensure that schools will work according to the UP Fee Regulation Act".
About Noida International Airport, he said, "the Jewar Airport is set to be the largest in the country with cargo and maintainance, repair and overhaul (MRO) service. We have been paying huge amounts for MRO to other countries, which can be saved. It is my personal commitment to expedite work on the airport and have it ready soon".