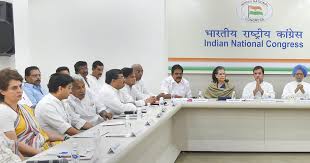 CWC reject Rahul's resignation as party President, Priyanka says, Rahul will fall into BJP's trap if he quits
Talib Khan (Photo-Video) Lokesh Goswami Tennews New Delhi :
New Delhi, (26/5/2019): Rahul Gandhi took a moral responsibility and accepted the defeat in the elections and offered to resign as Congress president on Saturday.
However, P Chidambaram got emotional while appealing to Congress chief Rahul Gandhi not to step down from his post, claiming that the party's cadres in the southern states will commit suicide.
After A K Antony, Ahmed Patel and Chidambaram tried to comfort him, Priyanka Gandhi Vadra said by resigning from the post, Rahul would be falling into the trap of BJP
The Congress Working Committe (CWC) later rejected Rahul's offer of resignation and told him that he had led from the front and there was no reason for him to be disheartened.
Later, senior party leaders have confirmed reporters that the resignation had been rejected and there Rahul will continue to be the party president.