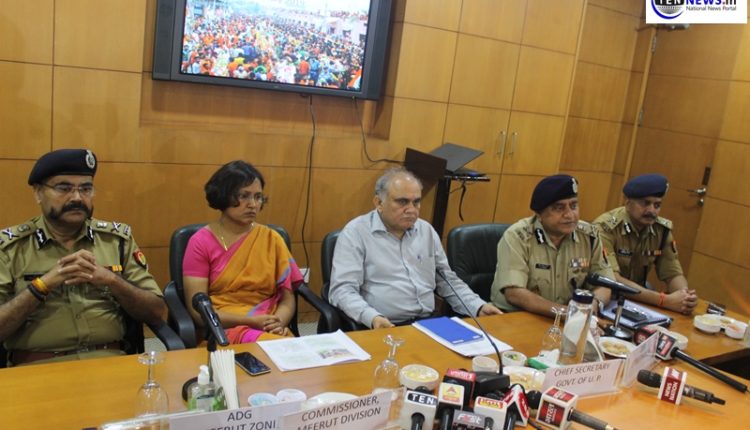 Chief Secretary & DGP holds meeting with top officials of adjoining states to discuss Kanwar Yatra 2019 preparations
Saurabh Kumar
Uttar Pradesh Chief Secretary Anup Chandra Pandey and DGP OP Singh today conducted a review meeting for the upcoming Kanwar Yatara 2019. During this high-level meeting senior police officials from Delhi, Haryana, and Rajasthan also remained present and discussed the strategy for making the event successful.
Kanwar is an annual procession where devotees of Lord Shiv travel to Hardwar in Uttarakhand to collect water from Ganga. This year the month-long yatra will start from July 17.
"The meeting was largely meant to develop coordination among the officials of different adjoining states. During the meeting majorly we discussed the preparations and the pending work that needed to be done. We discussed the condition of roads, diversion of traffic, Irrigation Department works, Health Department, Electricity department works, sanitation arrangements"
As the devotes will come from all the adjoining region and will go to Uttrakhand so we coordinate with them, information sharing, how their police station will get connected with our police stations. We also ordered ADG, IG, DM, and SSP to visit the spots personally to review the situations." Said Anup Chandra Pandey
On the security arrangements, OP Singh said aerial surveillance will be done through drones and helicopters that will keep an eye on the yatra. We will have a coordinated control room which will have all officers who will be monitoring the yatra. Concerning terrorist attacks, our two Anti Terrorist Squad teams will be deployed in Meerut and one will remain mobile in Between Saharanpur and Muzaffarnagar . Snipers will be also the part of ATS squad last time during Kumbh 2019 for snipers we had coordinated with NSG. Special vigilance on criminals and their activities during the Kanwar season will be ensured."
As the yatra covers a large geographical area so companies of Para militarily forces, Rapid Action Force and PSC also will be deployed. Digital volunteers will be deployed on police stations as well as coordination from other securities will be kept to receive credible information's.
As per the CM Yogi Adityanath instructions, DJs will not be banned but they should only play bhajans and no film song will be allowed. No liquor shops and illegal slaughterhouses near the Kanwar yatra route or the places of their stay. Cleanliness, proper drinking water, electricity, and security at the shrines also will be ensured.
"Since this year Bakrid and last Monday of Kanwar yatra will fall on the same day – August 12, officials to have proper security measures and check that no illegal slaughtering takes place and environment of harmony and peace remains "commented Anup Chandra Pandey answering media question.
Earlier in a meeting, Yogi Adityanath asked officials to conduct inter-departmental meetings at every zone, district and mandals, and coordinate with them to avoid any inconvenience after which officials conducted this meeting.