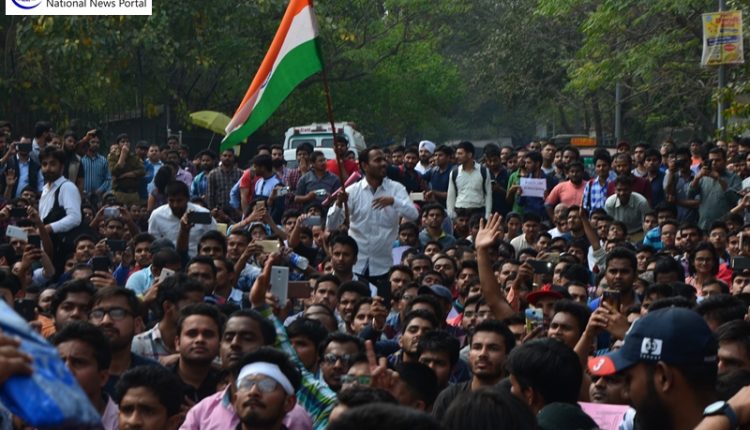 Citing irregularities, SSC aspirants demand CBI probe, hold massive agitation in Delhi
KASHIF HASNAIN (PHOTO/VIDEO BY SAURABH SHRIVASTAVA)
Citing irregularities, SSC aspirants demand CBI probe, hold massive agitation in Delhi
New Delhi: Jolted with the sheer irregularities and paper leak in the recently conducted Staff Selection Commission (SSC) examination, SSC aspirants have launched protest at commission head office in Delhi.
Thousands of the SSC aspirants are gathered outside the SSC, Delhi office and are demanding for the CBI probe in the recently concluded examination.
The SSC had recently conducted an examination for 8000 posts between February 17 to February 22, 2018 across the country, where more than 1 lakh students had appeared. These 1 Lakh students had become eligible for sitting in these examination after qualifying the pre examination, for which millions had appeared.
However, as per the media reports and students claim, the question paper was already leaked a day before the examination on social media.
"The paper was leaked a day before the examination and brokers had been selling it outside the centre in just Rs 500. Moreover, SSC cancelled the examination half an hour after the starting of examination citing technical glitches,"said aspirant Raju Kumar while talking to the Ten News who has filed a written complaint to the SSC Chairman Ashim Khurana.
He further said that, "Chairman is shamelessly asking us to show the evidence. From last two days he has been hiding in his office. If he is sure that the examination was fare and square, then why he is not ready for an investigation?" he asserted.
However, Chairman of the SSC Ashim Khurana said, "The agitation is a conspiracy by some coaching institutes to defame us, however, I have asked for evidence from the students, so, the commission can take appropriate decision in this regard."
Meanwhile, hundreds of students, who have been protesting alleged that police personnel have been assaulting and misbehaving with them during the protest.
"Since yesterday, we have been protesting silently but today police assaulted us and detained one of the aspirants, Chandan on Wednesday morning and he has not returned to home till date. We are worried about him," said a protestor Surendra to the Ten News.