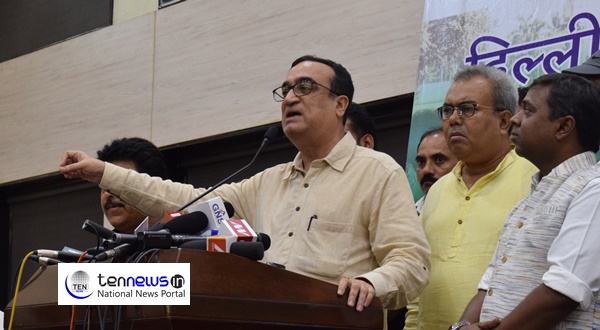 New Delhi: Delhi Pradesh Congress Committee president Ajay Maken announced today that to secure the rights of the street vendors in Delhi, a sustained agitation named "Mera Haq, Ethe Rakh" will be launched, till the full rights
of the street venders are realized as the rights given in the Street Vendor" Act 2014 are being taken away by the Delhi Government and the NDMC.
Maken said that when
he was the Union Urban Development Minister in the Congress-led UPA Government at the Centre in 2014, "the Street Vendors Protection of Livelihood and Regulation of
Street Vending Act 2014" was passed to safeguard the interest of the street vendors all
over India. He said the purpose of the Act was to protect the livelihood, rights and social
security of street venders and regulate street vending and other activities incidental.
Addressing a press conference at Constitution Club,Ajay Maken said,
"The Street Vendors Act has been implemented all over the country, the Delhi Government has yet not implemented the Street Vendors Act
completely in Delhi, though the AAP Government has been in power since 2015.The Street Vendors Act was passed to ensure that more and more participation of street vendors, or their elected representatives and NGOs who work for the rights of street vendors, to be included in the process of formation of the Town Vending Committees and for selecting the vending and non-vending zones with their
concurrence, instead of the Government making arbitrary selections."
Maken announced that senior leader and ex-MLA Mukesh Sharma, who is the convenor of Delhi Congress" on-going Nyay Yudh agitation against illegal sealing in
Delhi, will be the convenor of the "Mera Haq, Ethe Rakh" agitation too.