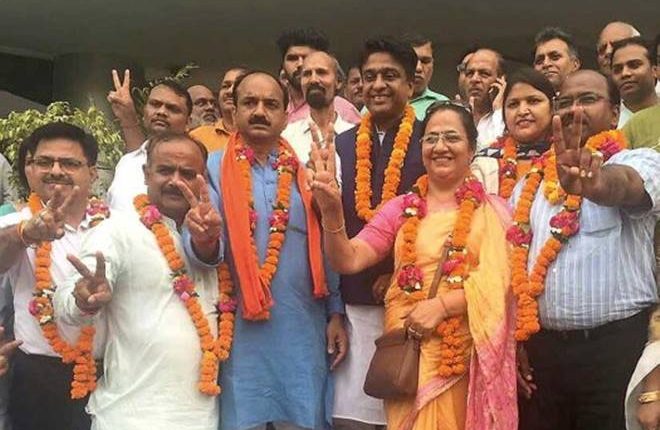 Delhi: BJP Councillors score highest in Praja Foundation report card
New Delhi, October 30: Praja Foundation released its third report card for the current term (2017-22) of Delhi Municipal Councillors, elaborating on the performance and areas of improvement for local Elected Representatives (ERs) in Delhi.
One of the most vital roles in local governance is played by councillors who act as the people's representatives in different wards in cities. In the current situation of COVID-19 pandemic the role of local governance in cities and its importance has been further highlighted.
"Councillors have been in the forefront of ground level relief and intervention in the COVID-19 pandemic in many cities in India. Given the current structure of governance in Delhi however, councillors have not been party to the decision making for the city in spite of being closest to the ground situation and having the knowledge of the needs of their constituents", said Nitai Mehta, Founder and Managing Trustee, Praja Foundation.
While the experience of the pandemic calls for empowerment and greater decision-making powers to our councillors, it also cements the fact that councillors hold extreme burdens of responsibilities in representing their constituents' needs to the government, both during crises and otherwise. Towards that, monitoring the performance of our ERs based on their existing responsibilities of holding the administration accountable through effective deliberation is key.
In line with this, from this year, Praja has reworked its matrix to focus mainly upon the deliberative performance of councillors, as deliberative duties are the most important responsibility of any elected representative.
"The performance of councillors has fallen in all three corporations, 2019-20 being an election year (in centre and state). Attendance score fell in NDMC from 75.32% in 2017-18 to 66.38% in 2019-20, in SDMC from 75.10% to 66.61% and highest fall in EDMC from 81.83% to 71.27%", said Milind Mhaske, Director, Praja Foundation.
Overall questions raised by councillors fell by 29% from 18,128 in 2017-18 to 12,879 in 2019-20. The highest fall was in NDMC, where number of questions raised fell by 35%, followed by SDMC (27% fall) and EDMC (16% fall).
"But this is inexcusable- in our current framework of democracy and party politics, we need to rethink of councillors having to prioritise party campaigning for other elections over the regular functioning and deliberations of the city government", added M.C. Verma, Director, IC Centre for Governance
"7 councillors asked zero questions in 2019-20, of which Parveen (EDMC) has not raised a single question in the entire term (from 2017) raising questions about their commitment to the deliberative process", stated Mhaske.
"Further, councillors are not focusing on raising issues that fall under the obligatory duties under the MCD Act- 55 councillors (54%) in NDMC, 56 councillors (54%) in SDMC and 37 councillors (62%) in EDMC scored less than 50% in asking questions under their obligatory duties", added Mehta.
"Questions raised by councillors did not match the complaints made by citizens in their constituencies- 74 councillors (73%) in NDMC, 77 (75%) in SDMC and 44 (73%) in EDMC received poor score (less than 50%) in raising issues related to civic complaints made by the constituents", added Mhaske.
"Councillors act as people's representatives in the government by speaking for their constituents' interests which makes their role extremely vital in a city's functioning. It is our sincerest hope that the councillors in Delhi focus their attention on the duties and responsibilities that they are already entrusted with and we hope this report card enables them to understand their strengths and weaknesses and work towards betterment of their performance in the coming years", concluded Mehta.