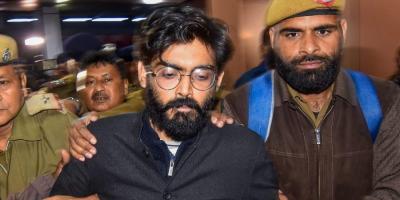 Delhi Court Discharges JNU Student Sharjeel Imam in Jamia Violence Case
Ten News Network
New Delhi, February 4, 2023: A Delhi court has discharged JNU student Sharjeel Imam in connection with a case related to the violence that took place near the Jamia area in 2019. Sharjeel's lawyers confirmed the news.

The incident happened in February 2019 when clashes had broken out between anti-CAA protesters and the police near Jamia Millia Islamia University.
Sharjeel was one of the accused in the case and had been booked under several charges, including attempted murder and promoting enmity between different groups.
Meanwhile, teachers and staff of Delhi University's Deen Dayal Upadhyaya College have been protesting for the past three days over salary irregularities among teaching and non-teaching staff, limited infrastructure funding, and the college's inability to bear miscellaneous charges such as water and electricity.
Funded by the Delhi government, the college has so far received 10 electricity disconnection notices from BSES and three notices to disconnect water supply, said the staff union.
In a separate incident, a post office in Gurgaon handed over nearly 130 kg of "contraband" items suspected to be party drugs to a man who came to collect them, despite an alert issued by the Directorate of Revenue Intelligence (DRI) days earlier.
The items arrived in 13 packets from Cambodia's capital, Phnom Penh, and were meant for a Gurgaon-based recipient. The DRI had sent out an alert on January 20 to the office of the Chief Postmaster General (CPMG), Haryana Circle, Ambala, to hold these items as they contained suspected "contraband." Sources said the contents are likely party drugs.