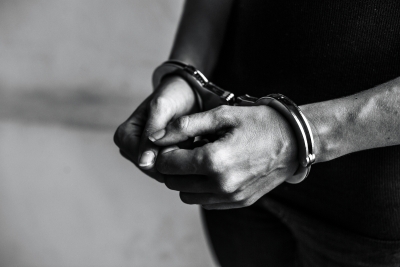 Delhi man arrested for attempting to brutally murder live-in partner

New Delhi, Sep 30 (IANS) The Delhi Police's Crime Branch has arrested a man who was attempted to murder his live-in partner by slitting her throat, which resulted in the victim to receive more than 850 stitches, an official said on Saturday.
The fugitive, who was evading arrest since the registration of case in April this year, was identified as Rinku (27), a resident of Uttar Pradesh's Aligarh district.
He was arrested from Shapar, Gujarat.
"Due to certain differences, the victim and her husband had been living separately. Subsequently, she started residing in Jawahar Nagar. Approximately 6-7 years ago, she entered into a romantic relationship with an individual named Rinku," said the Special Commissioner of Police (crime) Ravindra Singh Yadav.
At that time, Rinku was employed at a footwear shop in Kamla Naga.
They started a live-in relationship and moved in together in rented accommodation near Gur Mandi. After some time, their relationship soured, leading to them living apart," said Yadav.
The victim relocated to a paying guest accommodation in Kamla Nagar.
"On April 15, at around 9:15 a.m, Bharat, the victim's brother (complainant), received a distressing call from the paying guest facility, reporting that someone had attacked his sister, slashing her throat," said Yadav.
"Upon arriving at the scene, they discovered his sister in a severely injured state, covered in blood, with deep lacerations on her neck and body. She was immediately rushed to the Hindu Rao Hospital, where she required more than 850 stitches."
During the investigation, the police team found that the accused had used numbers belonging to his co-workers to contact his relatives.
After significant efforts, Rinku's location was traced to the Shaper Industrial Area, Gujarat.
"A raid was conducted and Rinku was arrested," said the Special CP.
Upon interrogation, Rinku revealed that he had been employed in a footwear company, through which he came into contact with Bharat, the victim's brother.
"Subsequently, he became acquainted with the victim and fell in love with her. After living together for seven years, their relationship deteriorated, leading to their separation. They had a child together during this time," said the official.
"The accused grew suspicious that the victim was involved in an illicit relationship with another person. Unable to bear the social stigma, he decided to kill her in an attempt to erase her presence from his life."
–IANS
ssh/ksk