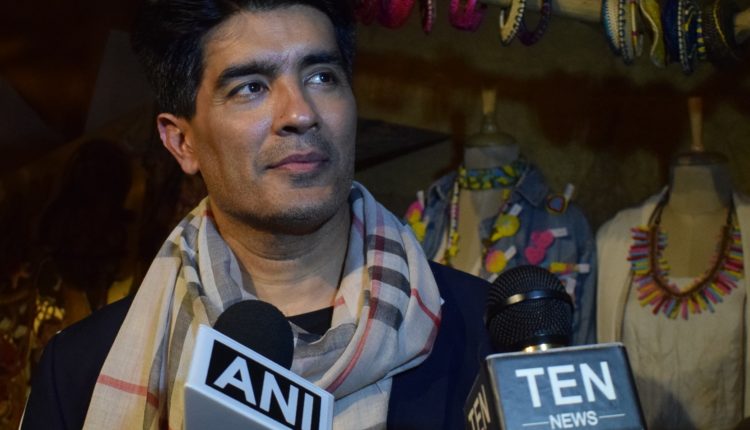 Designer Manish Malhotra comes in Support of India's #MeeToo Movement
Vishal Malhotra (Photo & Video) By Rahul Kumar Jha
New Delhi: The Asian Heritage Foundation, India organised an Up-Close and Personal session with Manish Malhotra, Anant Goenka & Rajeev Serhi, today. As a part of an exhibit cum outreach festival "JIYO! LIVE IT" – A cultural extravaganza high on traditional, Skilled Arts, Designs, Folk Music Performances, Artisans, Food and more with Ambassador of Japan to India H.E. Kenji Hiramatsu, Patricia Hiramatsu and Marina Hiramatsu along with artisans and others were also present there.
The Jiyo! Project is an indigenous brand and a design-led initiative by the Asian Heritage Foundation, supported by the Japan Social Development Fund and monitored by the World Bank. The grant project titled, JIYO 'Creating Inclusive business models for the marginalized tribal communities of Jharkhand, Odisha and Madhya Pradesh' was launched in 2014, and has received official funding from the JSDF, through the World Bank, as part of its worldwide initiatives to create livelihoods and to revitalise the traditional sectors. It is currently being implemented by the Asian Heritage Foundation with an aim to enhance the livelihood opportunities of rural artisans for cultural industries through design-led intervention.
Culture can support the creative economy to generate original content. This is a trans-disciplinary movement that clubs the entire creative sector with synergies. What village India can make for themselves or the urban bazaars and significantly for the luxury markets across the world offers a design-led paradigm shift. So, the poor need to reach out with their tenacious skills, however vulnerable they be. The world will soon hear when bespoke producers and service providers will confidently state that they are here to stay.
Rajeev Sethi is among South Asia's leading designer and is noted internationally for his innovative contribution to preserving and celebrating the subcontinent's rich cultural heritage.
Manish Malhotra speaking to Ten News said that,
"Rajeev is really doing a great job, and bringing traditional clothing back on track is a must for today. I had a tour here at the center and was glad to see the products artists made. "
When asked by Ten News about #Metoo movement, Manish said,
"This movement is something that should have arrived way back but as people says, 'Better late then never', So it is a big step towards development of humanity. One should never be abused on the basis of what he/she is. I am happy to see media supporting this movement."