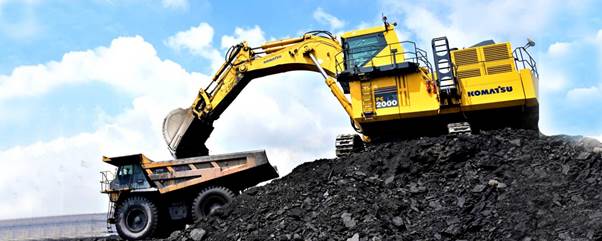 Different Measures taken to Further Step Up Coal Production: Govt
Ten News Network
New Delhi (27/03/2023): Government has initiated several steps to ramp up domestic coal production in the country in order to achieve self-reliance to meet the demand from all sectors. Some of the major initiatives undertaken include Single Window Clearance, amendment of Mines and Minerals (Development and Regulation) Act, 1957 to allow captive mines to sell up to 50% of their annual production after meeting the requirement of the end use plants, production through MDO mode, increasing use of mass production technologies, new projects and expansion of existing projects, and auction of coal blocks to private companies/PSUs. 100% Foreign Direct Investment has also been allowed for commercial mining.

Domestic coal production increased by 8.67% in 2021-22 over the previous year. In the current financial year till February 2023, domestic coal production has increased over 15% compared to the same period of last year.
Most of the requirement of coal in the country is met through indigenous production/supply. The focus of the Government is on increasing the domestic production of Coal and to eliminate non-essential import of coal in the country.
An Inter-Ministerial Committee (IMC) has also been constituted for the purpose of coal import substitution comprising representatives from Ministry of Coal, Ministry of Power, Ministry of Railways, Ministry of Shipping, Ministry of Commerce, Ministry of Steel, Ministry of Mines, Ministry of Micro, Small & Medium Enterprises (MSME), Department for Promotion of Industry & Internal Trade (DPIIT), Central Electricity Authority (CEA), Coal India Limited, SCCL, Paradip Port Trust, Vishakhapatnam Port Trust and Kolkata Port Trust. This Committee provides a platform for discussions on a larger forum with the Administrative Ministries so as to guide them to encourage the coal consumers of their respective sector to eliminate imports of coal
The details of quantity and value (in INR) of coal imported in the last five years are given below:-
(Quantity in Million Tonne & Value in Million Rs.)
Year
Coking Coal
Non Coking Coal
Total Coal
Qty
Value Rs.
Qty
Value Rs.
Qty
Value Rs.
2017-18
47.003
595226.36
161.245
789543.41
208.249
1384769.77
2018-19
51.838
720497.64
183.510
988707.26
235.348
1709204.90
2019-20
51.833
612668.32
196.704
914652.23
248.537
1527320.55
2020-21
51.198
453552.10
164.054
706688.44
215.251
1160240.54
2021-22
57.161
1029958.47
151.772
1257459.99
208.934
2287418.46
2022-23 (Dec 22)
43.208
1240261.774
142.851
1872213.394
186.059
3112475.169
This information was given by Union Minister of Coal, Mines and Parliamentary Affairs Shri Pralhad Joshi in a written reply in Rajya Sabha today.