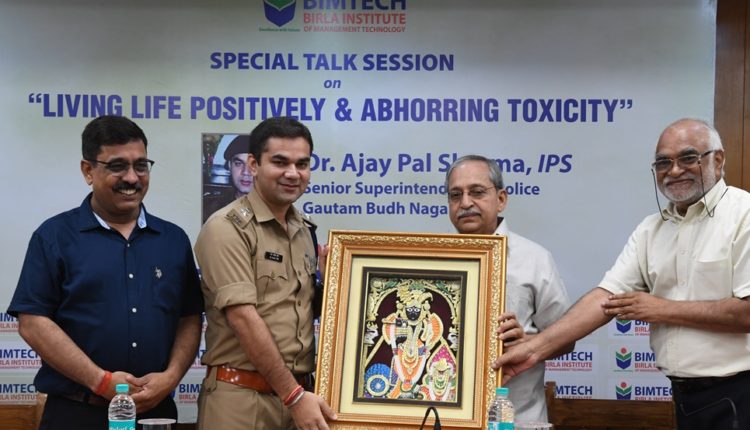 Dr Ajay Pal Sharma, SSP, Gautam Budha Nagar Addresses BIMTECH Students
Ashish Kedia
Today a very interactive session was held with students of PGDM 2018-20 batch at BIMTECH on "Living Life Positively and Abhorring Toxicity" by Dr. Ajay Pal Sharma, SSP Gautam Budh Nagar. The session was organised by Students Welfare Team of BIMTECH part of anti-ragging and toxin free campus drive. Dr. H Chaturvedi, Director, BIMTECH welcomed Dr. Ajay Pal Sharma, IPS and shared the laurels attained by the young and dynamic police officer in such a short span of his career and wished him luck for a bright future. Dr. Rishi Tiwari, Proctor, Student Welfare Team welcomed him with a bouquet of handmade roses by 'Chraiyyas' – girls of Life Skill project by BIMTECH CSR arm at Neemka Village.
Salient points of session are as follows:-
As a result of positivity in life,Dr. Sharma  could achieve success as a Civil Servant. He shared his life changing experience of opting for Civil Services Exam even though he was a Dentist and changing his subject to Sociology from Zoology at the last minute with students and the ways he handled stress during its preparation thus emerging as a winner. Points to remember includes -"Hard Work, Consistency, Self Motivation and Family Support." 
One of takeaways for students from his speech is – "For getting success in your life in any field one has to plan properly and be determined – One can achieve anything in life with a will to do and stiff determination".
"However gruesome the situation, one has to apprehend it and the moves of opponents and then accordingly make the strategy to win." Dr. AjayPal answered to curious students who wanted to know the difference between real life and movie depicted encounters of criminals by police. He said that even after innumerable success involving detailed and close knit operation, they lost life of a constable and one injured in one of the operations held by him.
He urged the tech-savy students tolog on Twitter handle of UP Policeand check their efficacy, who are working hard to make the society a better place to live in. He requested students to share any problems related to law and order with UP Police so that it can be taken care of. 
He asked girls to call 1090-women helpline no. which has a reaction time of 11 minutes in Urban area and 15 minutes in rural areas.
SSP Dr. Sharma reiteratedthat"Leadership and teamwork by multiple departments make a single task worthwhile when they work in tandem for success of every operation",while sharing the successes of innumerable encounters held by him as the Operations Head.
Answering to one of the female students on safety of women in Greater Noida area, Dr. Sharma said that an operation was launched wherein around 50 lady constables posed in civil clothes at various areas and identified the problems faced by women of stalking, eve-teasing etc. After judging the areas according to incidents, they were categorized and graded accordingly. However, in case of any such incidences, he urged the students to keep the police informed so that it can be taken care of.
He shared the control over law and order situation by deploying around 3000 cops in the area and his own plain clothes surprise visits to get first-hand knowledge of the law and order situationand amend his strategies accordingly. Students should understand the gravity of practicality along with classroom learning.
He appreciated the support of Government and police forcesin tackling crime and compensating loss of life of police personnel during encounters.
Students were impressed by the dynamism of the young police officer in their area and awestruck by the strategies, planning and activities undertaken by UP Police so as to bring down the crime rate from the area of Gautam Budh Nagar so as to make it a safer place to live, study and work.
Prof. K R Chari, Dean Student Welfare, BIMTECH thanked Dr. Ajay Pal Singh for having taken out time from his busy schedule so as to interact with young management students of BIMTECH who have joined us a few days back.