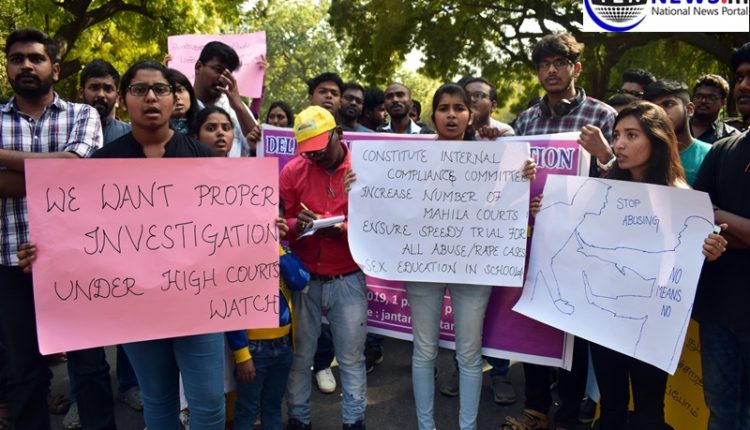 New Delhi : Today, Delhi Tamil Students' Association held a peaceful protest at Jantar Mantar condemning Sex Abuse Case in Pollachi .

They demanded permanent solution to the ongoing sexual harassment incidents to empower women. They mentioned four of their major demands :
1. To constitute internal complaints committee in Tamil Nadu Colleges.
2. To provide sex education in all schools.
3. To increase the members is Mahila covets.
4. To ensure speedy trial for all sexual abusive cases.
What is actually happening in Pollachi ?

This year on 12th February, a 19-year-old college student in Pollachi, was called by her acquaintance, Sabarirajan, who told her that he wanted to discuss something important with her alone.
Sabarirajan, who also goes by the name Riswandh, asked this girl to meet him at a bus stop in Pollachi, and when she reached there in the afternoon, Sabarirajan was standing near a car along with his friend Thirunavukkarasu, another acquaintance of the girl.
They asked her to get into the car with them, and said they would talk on the way. While Thirunavukkarasu started the car, Sabarirajan was sitting in the back seat with the girl. And suddenly, two more men – Sathish and Vasanthkumar – got in. The four of them forcefully disrobed her and shot a video, and snatched a gold chain she was wearing.
They threatened her that if she did not do as they said, and provide them with sexual favours and money when they demanded it, they would upload the video on the internet. When she screamed and cried, they left her in the middle of the road and drove away.
She was scared because of which, did not reveal the incident to her family. But when the men blackmailed her and tried to extort money from her multiple times, She decided to take her family into confidence.
Her brother Subhash (name changed) then tracked down Thirunavukkarasu and Sabarirajan, beat them up, and unearthed what is perhaps an elaborate and scary sexual violence and extortion racket. Subhash and his friends got hold of Thirunavukkarasu and Sabarirajan's cell phones, which contained videos of at least three other women that the men may have blackmailed. The family submitted this to the Pollachi police, along with a complaint of sexual harassment and robbery.