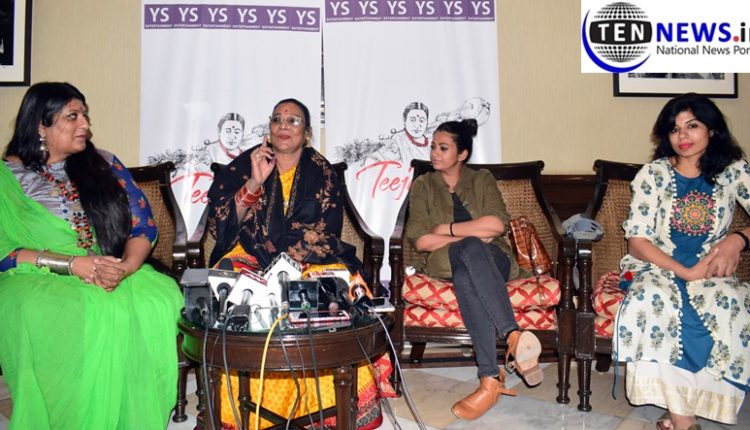 Nawazuddin Siddiqui's Wife Aaliya Siddiqui Backs Biopic on Legendary Folk Singer 'Teejan Bai
Vishal Malhotra (Photo/Video) By Lokesh Goswami Ten News Delhi :
New Delhi: Nawazuddin Siddiqui's wife Aaliya Siddiqui is soon coming up with a biopic about award-winning folk singer Teejan Bai, reported. Details of the cast and crew are yet to be confirmed and the film is in the scripting stage but while having a chat with Ten News, Aaliya shared three names that were Rani Mukherjee, Priyanka Chopra and Vidya Balan from which the lead face is yet to be decided said Aaliya today in Delhi.
Teejan Bai, who was given the Padma Vibushan in 2019, is a renowned exponent of Pandavani, a folk art from Chhattisgarh which involves narrations and performances from the Indian epic Mahabharata.

Aaliya Siddiqui also told Ten News that she wishes to see Amitabh Bachchan as Teejan Bai's grandfather in the film. "Interestingly, we discovered that Amitabhji's legendary father Harivansh Rai Bachchan was also an admirer of Teejanji," she said. "Amitji had also invited amma [Teejan Bai] to his home on his birthday."
Speaking to Ten News legendary Teejan Bai said,

"I am happy that a film is coming up based on my life. In my whole life I dedicated my time to the work I loved to do. I still remember that initially, I used to listen to my grandfather secretly and rehearse the lines of Pandvani