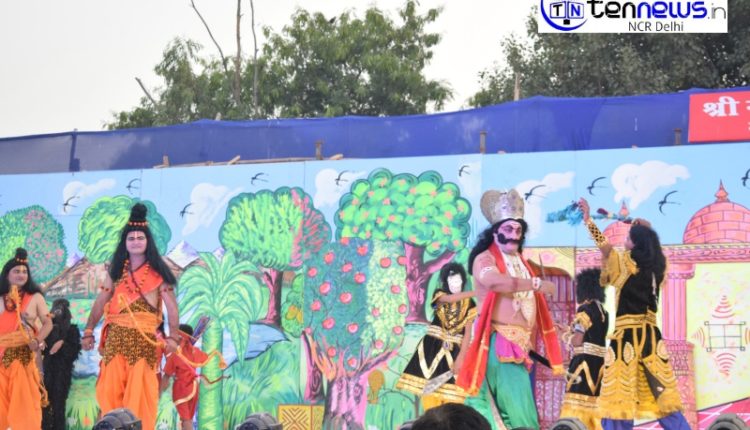 New Delhi: Yesterday on the occasion of Dussehra, Cabinet Minister Vijay Goel witnessed the Ramlila which from the Mughal period is celibrated in Delhi's Ramlila Maidan.
Thousands of people gathered to watch the power of truth and goodness over evil.
Dussehra (Vijaya Dashami, Dasara, or Dashain) is a Hindu festival that celebrates the victory of good over evil. It is a gazetted holiday in India, which is marked on the 10th day of the bright half of the month of Ashvin, according to the Hindu calendar.
Vijayadashami is observed for different reasons and celebrated differently in various parts of the Indian subcontinent. In the southern, eastern and northeastern states of India, Vijayadashami marks the end of Durga Puja, remembering goddess Durga's victory over the buffalo demon Mahishasura to help restore dharma. In the northern and western states, the festival is synonymously called Dussehra (also spelled Dasara, Dashahara). In these regions, it marks the end of "Ramlila" and remembers God Rama's victory over the Ravana. On the very same occasion Arjuna alone defeated entire Kaurava army consisting of 100,000s of soldiers, Bhishma, Drona, Karna, Ashwatthama, Kripa, Duryodhana, Dushyasana, Shakuni etc. there by significantly quoting a natural example of victory of Good (Dharma) over evil (Adharma). Alternatively it marks a reverence for one of the aspects of goddess Devi such as Durga or Saraswati.
The organizer of prestigious Ramlila, Khanna while speaking to Ten News said,
"I wish every citizen of India a very happy Dussehra and may god embrace everyone's life with joy and happiness. We have even invited Prime Minister for witnessing the Ramlila here at Ramlila Maidan but as he was already invited to attend the Ramlila at Red Fort, so it was not possible for him to attend two of the Ramlila at same time."