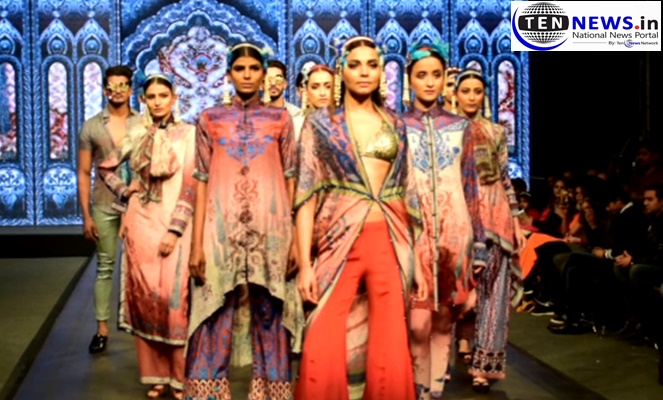 Effervescence of Splendid Fashion and Makeover Trends captivated everyone at FACE OF FASHION WEEK 2018-19
Prerit Chauhan (Photo/Video) By Lokesh Goswami Ten News Delhi :
New Delhi: Two day long fashion extravaganza organised successfully in Hotel Vivanta by Taj, Delhi. From high couture fashion, vintage , red carpet and royal ,looks , face of fashion week, organised by Rahul Passi, U & I International, presented innovatively devised looks that gelled with grandeur of Indian festivity.
Starry quotient to two day long event was added by Beautiful Bollywood Actress Shazhan Padamsee , Bollywood celebrities and super model Rohit Khandelwal and many beautiful models displayed camaraderie of beautiful ensembles and makeovers. Artistry of Makeover was in full display as ace makeovers expert Mallika Gambhir put forward the stratospheric level of haute couture looks.

Super Model Carol Gracious and all beautiful models strutted the ramp wearing different looks in pristine makeups, well defined hair styles to detailed headpieces, modern interpretations of classic upstyles and contemporary looks were fashioned. Models clad in designer ensembles displayed Stunning looks that reflected through the splendid silhouettes of designs and presented incredible amalgamation of fashion, finesse and class.
Beautiful Bollywood actress Shazahn Padamsee ,super model Carol Gracious, Mr World Rohit Khandelwal and many beautiful models added glamour and charm further to the fashion week as they showcased most happening fashion trends of 2019.
Organiser Rahul Passi from U & I International on the occasion said, " I am very happy to present the two day long fashion extravaganza, FACE OF FASHION in Delhi, Event presented back to back fashion shows by most established designers and also had exhibitions where exhibitors from all over India were provided with a platform to exhibit their fashion collection, jewellery and other things of craft. This was a two day spectacle with luxury expo and fashion shows extravaganza, presence of Bollywood celebrities and super models made entire event more interesting, fascinating and successful."
The event was amalgamation of fashion, glamour, trends for 2019 and sizzled winter evenings. Ace fashion designers of India, couturiers, show directors join hands to present perfect camaraderie of fashion & beauty that has never been witnessed before. Back to back fashion shows, most sought after Fashion Exhibition with best of beauty, jewellery and fashion finesse on display followed by an exclusive kids fashion show.

Face of Fashion week accentuated vivid trends and hues in fashion and makeovers. Show featured top notch designers including Reena Dhaka, Rajdeep Ranawat, Dimple Kapoor, Nick Roshan, Arjun Kumar label, Kingshuk Bhaduri, Rajdeep Ranawat who presented their beautiful collections, ace makeover expert Mallika Gambhir accentuated looks of all models with most innovative make up and elaborate hair dos. Show is being choreographed by celebrity choreographers Kapil Gauhari and Khizar Hussain and and show director is very renowned Ketan Bhatia.

Speaking to Ten News, Malika Gambhir, Makeover Expert said, "For the two days fashion show we have done makeover of the models including their makeup and hairdo. The base of the fashion show is designer, makeup, hairdo and jewelry. Makeover and hairdo set trends in a fashion show. So fashion designer and we come together to so something new."

Fashion Designer Dimple Kapoor Talking about her Collection, said, "I would like to thank Rahul Passi for this beautiful event and amazing thought to come up with. He has combined the face of the Mrs, Ms, kids and designers. I think nothing can be better than the platform he has given to us."

Designer Rajdeep Ranawat Speaking to Ten News said, "We are doing this fashion show for the first time. My collection is inspired by mu trip to Istanbul. Istanbul architectures, artwork, Ceramic Tiles, Mosques and all the artworks we have depicted in this collection."

Designer Rina Dhaka Talking about her collection said, "I congratulate Rahul Passi and the team of U & I, Face of Fashion and all the Partners and supporters who have come together to provide yet another platform to new designers."

Mr World 2016 Rohit Khandelwal said,
"Its amazing there are so many models who have come for walking and i'm wearing this beautiful outfit and it fitted me very well. It's very class cum very sobber, something that i can pull off anywhere i go for any kind of festival and events so i would say my fashion designer has done a very great job."
Creme de la creme of society graced the occasion in large attendance and witnessed fashion extravaganza of 2019