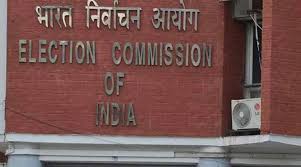 NEW DELHI: Today the dates for upcoming Lok Sabha elections has been announced by Election Commission of India.



As the election dates were announced
Model Code of Conduct comes into force.
Elections will be conducted in seven phases:-
1st phase 11th April
2nd phase 18th April
3rd phase 23rd April
4th phase 29th April
5th phase 6th May
6th phase 12th May
7th phase 19th May
Election results will be declared on 23rd May.

Chief Election Officer Sunil Arora has confirmed the dates during a Press conference in New Delhi.
The Chief Election Officer said that there will be proper security arrangements for EVM.
The use of loudspeakers will remain closed from 10 in the night to 6 in the morning, heavy CRPF personnel will be deployed at the polling booths.
The election commission will also launch an app, with which the voters can record anyone breaking the law and can send it directly to the election commission of India.
To make the election process more transparent, cctv cameras will be installed in all polling booth.
The Chief Election Commissioner said that we have tried every possible way to reach voters and we don't want to left even a single voter.
The Election Commission has also confirmed that no state polls in Jammu and Kashmir for now only parliamentary elections.