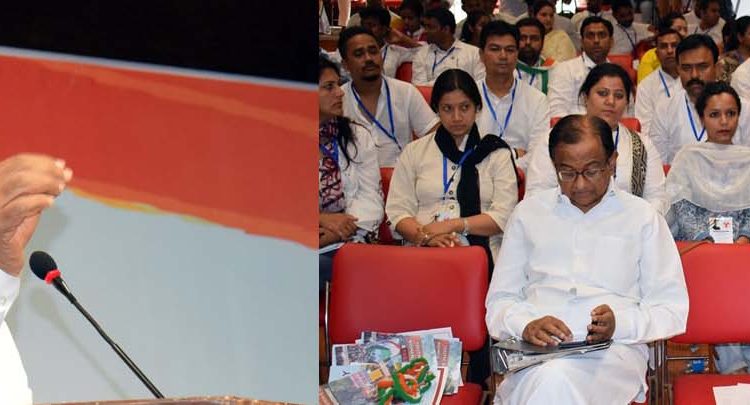 Electrification of villages not Modi's achievement, they have only put cherry over cake cooked by Congress explains Ex-Finance Minister P Chidambaram
Kashif Hasnain (Photo/Video) By Lokesh Goswami Ten News Delhi :
New Delhi: Former Finance Minister P Chidambaram on Monday reprimanded Narendra Modi government for claiming that BJP has electrified all Indian villages days before the scheduled date and said it is one of his jumla to brand his government's achievements.

As per the report, "There are 5, 97,000 villages in India, of which, 5, 80,000 are electrified and rest 18,000 were non-electrified when BJP came to power in 2014. 1000 days ago, PM Modi announced to electrify rest 18,000 villages but will he explain who has electrified the rest 5, 80,000 villages?"
He said while addressing in Indian Youth Congress National Executive meeting while speaking on current economic issues in India.
By giving an example he said, "It is just like, a man who made a cake with a lot of efforts but left before putting cheery on the top. Then, another man came in, put cherry on the top and claimed that I have made this cake. This is exactly what BJP is claiming. This is joke. People should ask question who had electrified the rest 5, 80,000 villages?"
Speaking on the topic of economic challenges the country is facing he said that the biggest challenge is huge decline in investment which creates jobs and money in the market and second is unemployment. There are lakhs of seats vacant in government sectors like 1,108 vacant posts in Supreme Court and High Courts. Of 7,600 sanction posts in Central Universities, 5,909 posts are vacant.
"If government only fill those vacant posts like CRPF, Police, BSF and others it is enough to happy the voters and no major efforts needed to do that. But the current government does not know how to create jobs." Chidambaram added.
Replying to a question that current government has failed to create jobs but still winning elections, he replied, "Owing to his (Modi) tall claims of creating crores of jobs in the country, a huge number of youths voted to him but when his failure is slowly coming out, you will definitely see the change."
He further said, "Due to the job promise people voted BJP and due to job people will vote against the BJP in upcoming election."