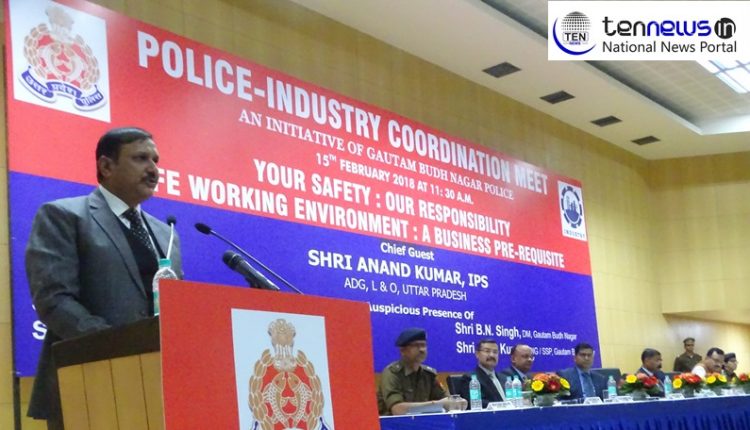 Encroachment, Jam & Extortion come out as major concerns of Industrial Fraternity in Police Coordination meet!
ASHISH KEDIA / ROHIT SHARMA
(16/02/18) GREATER NOIDA :–
On Thursday Gautam Buddha Nagar police department organized a coordination meet with representatives of different industries and industrial association in the district. Anand Kumar, ADG L&O, Uttar Pradesh was the chief guest of the event which was also attended by Prashant Kumar ADG Zone, Meerut, Ram Kumar, IG Range Meerut, BN Singh, DM GB Nagar and Love Kumar SSP/DIG GB Nagar along with other senior officials.
The key finding of the whole meeting was that while industrialist fraternity seemed satisfied with the positive changes coming in the law and order situation, they did had their fair share of complaints and doubts over the functioning of local police stations. While there seemed a complete agreement on the fact that senior officials have become much more approachable and responsible, there was similar unanimous criticism of junior police personnel's and police station in charges.
SSP said, "The interaction with industries has gotten better both at officer level and police station level. There are various factors that are significant to industrial growth such as market, labour, raw material etc but it is law and order that needs to be in place for everything else to work well. Industries face majorly law and order issues pertaining to labours which have been strictly dealt with in recent past.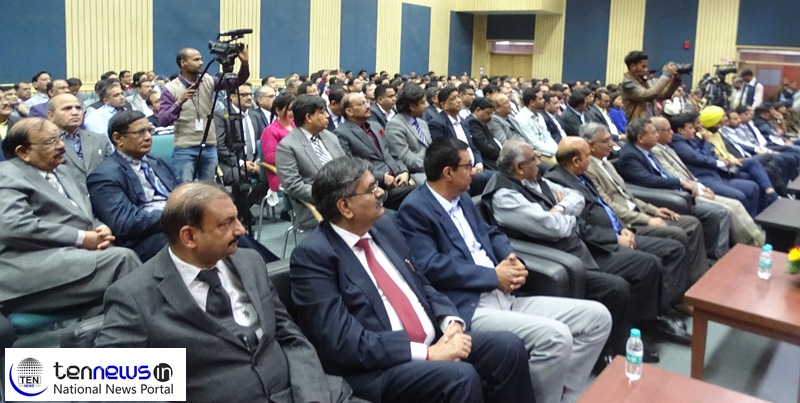 There has been remarkable reduction in number of car jacking, mobile snatching, robberies etc. Almost 150 mobiles have been recovered in last six month and about two dozen culprits have been jailed, however we need to work more in this direction.
Extortion has also been a major grievance in this region. However in last 9 month's there has been huge crackdown on such elements, 14 such gangsters who were previously in to organized crime have surrendered in other districts.
How to have better coordination and mutual understanding. How could GB Nagar become number 1 in terms of industrial growth shall be our focus?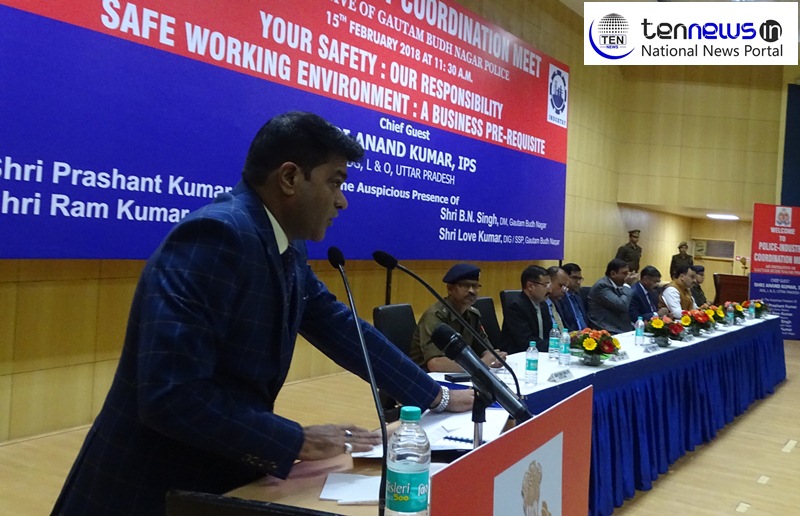 NEA President Vipin Malhan said, "With change of government and officials at different levels, there has been massive improvement in law and order segment. In last 15 years only builder industry thrived in the region. Encroachment and traffic jam are two cancers that are hampering the growth and development of GB Nagar. Encroachment has been a factor that is mainly responsible for the jams as well. Whether it is authority or the local police station who is sheilding this needs to be taken care of by the police. Local police station and PE's must be made responsible for eradicating encroachment. GB Nagar police force is very much struggling in terms of police personnels. There is acute shortage. Around Five years back there was a dedicated CO Industries in the district and we request that this post must be reinstated. Around 3600 crore revenue realisation is from Noida and 1k Cr is from industries. Close proximity to Delhi has contributed to growth. The future potential of GB Nagar district is much more than where we have reached today".
NEWA representative said, "The level of interaction between industries and administration is unparalleled in Noida.The police patrolling has got better. However it still remains difficult to file an FIR or register a complaint." He also reiterated the request to recreate dedicated senior police personnel for Industries.
Aditya Ghildyal said, "There has been remarkable improvement in Law and order in recent times if we compare from late past. Threat still come for extortion through phone whether it come from jail or convicts call while being produced in court. Scrap Tender has contributed to many murders in past. Transport system in GB Nagar is still organized and threats from some transporters make it difficult to work in free market. Cyber crime has also increased in the region. Local police stations keep on passing the buck; there is lack of coordination between SP and local police station to deal with cybercrime. Police doesn't work well to resolve cyber crime. Theft cases are dealt with very leniently. The outlook of police station officers towards theft is very bad. Police has capacity to capture thrives but only of the approach changes there can be drastic change in resolving cases".
He requested to make sure that roll of heads on the top should not affect the good work that has been initiated in term of the previous official. He also informed that Parking extortion continues in Greater Noida Industries.
An audience member said, "SO are changed very frequently. They don't even understand the areas well and are transferred immediately".
On a query ADG L&O Anand Kumar said, "there is a supreme court judgement, under which FIR in builder buyer fraud cannot be registered without preliminary enquiry".
While speaking at the function DM BN Singh said the metro connectivity will give further boost the industries in the region. Similarly DMIC, Jewar Airport etc. will further provide more boost to the industrial growth. There might have been a communication gap in past. I have also worked in Greater Noida authority in 2005-06. The process of dialogue between administration and stakeholders must be initiated and it is commendable that it is happening now. The role of police is limited to law and order and we should have that many expectations with police only. Appropriate forum must be identified and only that should be pressed for a resolution. It must be acknowledged that sensitive policing is being done. Crime also happens individually and is also a manifestation of culture. There was a culture in Noida for operating gangs be it of parking or encroachment. Even if any official is found glove in hand in any lawless activity then they will also not be spared. As a DM I will never leave anyone who is found in violation of law. All disputes will be resolved as per law and order provisions".
He also extended invitation for investor meet to all the attending Industrialists.
In his address IG Ram Kumar said, "There are 6 districts in this range and the pattern of crime or elsewise is very different everywhere. In the whole Meerut range the maximum police force is in Noida. We have around 450 SI posted in Noida as compared to Ghaziabad which has 300. I expect that some innovative solutions for general issues must come up from Noida which most probably has most technically advanced population in the state. If you think that a problem is not being solved at a certain level, the concerned must move a step above. As of security and safety in industrial areas, not only of life and supplies but also of respect, we are working in this direction. We are also in process to bring some behavioural change' in police personnel's. We have to basically crack down on crime and criminals will itself get reduced".
ADG L&O Anand Kumar said, "The present regime is very clear about law and order targets and we want complete peace in the region. A better law and order will certainly enhance job opportunities and industrial development. There is shortage of 2 lakh 14 thousand police officials in the state. Priority base recruitment is being done and within 1 year we will fill around 75% vacancies. There are only 200 traffic police and by every yardstick it is much lower. However Noida has maximum police personnel posted. I hope we acknowledge that police department is now willing to listen to criticism, get direct feedback and action will be taken on all the issues that have been raised here".
He also said that an atmosphere of fear has been administered under the criminals in the state and we will make sure that all grievances will be taken to logical conclusion.
Talking of providing adequate security measure for industrial growth he said, "Industrial climate will be developed in this state and no one can stop it now. Complete police and administration is firmly resolved to tackle the problems. We have to be Partners in progress. In Lucknow investors meet a lot of investors are lining up. Winds of change are absolutely evident. The future is going to be bright for UP".
ADG Zone Prashant Kumar delivered concluding address and thanked all for attending the coordination meet and making it a grand success