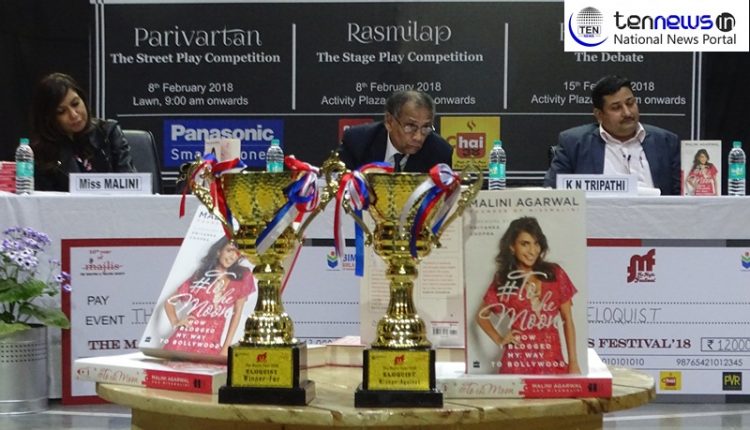 Miss Malini releases her debut memoir #ToTheMoon at BIMTECH, shares thoughts on freedom of expression!
ROHIT SHARMA / ASHISH KEDIA
(16/02/18) GREATER NOIDA :–
Majlis, Theatre and Debating Society of BIMTECH, which is in its 10th year now organized Eloquist, a debate competition on 15th of February, 2018. The event came after the Theatre Festival that took place last week at BIMTECH. At Eloquist students from various colleges exhibited their debating skills to compete for the grand prize.
Malini Agarwal of the MissMalini fame; an Indian celebrity blogger and former Head of Digital Content for Channel V India also released her new book #ToTheMoon: How I Blogged My Way to Bollywood on the sidelines of Debating event. The book tells the story of her journey in entertainment journalism.
Other jury members for the event included B.B. Nagpal, Krishna Nand Tripathi (Rajya Sabha TV), Hemant Joshi and Professor R.J. Masilamani. The event was curated by Vinay Batra a BIMTECH alumnus and former TV anchor at Network 18.
The topic of the debate was on "Freedom of Expression", where six teams from different colleges spoke for and against the motion to put forward their points.
During the event Malini said, "MissMalini.com was the digital partner for recently released Padmavat, We firmly stand for every individuals right to freedom of expression. However after being watched the movie and kind of reaction it has generated, I do had my fair share of doubts over certain individuals may take it. The way we are taking it, i doubt certain people may find Jauhar to be a great tradition and may want to bring it back and it certainly is a thing to ponder".
She also talked about how she never faced any discrimination or hardship while becoming the most celebrated entertainment journalist in the country however she did mention that a recent sexit comment by a renowned journalist was the worst thing she had faced in her career.
She said, "A well known journalist while interviewing me some time back had the tenacity of actually asking me that how I countered the urge to sleep with Bollywood stars while being amidst them for so long. What was more shocking was that a room full of people laughed at this question. I really felt offended that someone may reduce my years of struggle and efforts to something so unrelated".
In presence of BIMTECH students Malini also released her debut book #ToTheMoon and also gave few copies as giveaway to active participants.