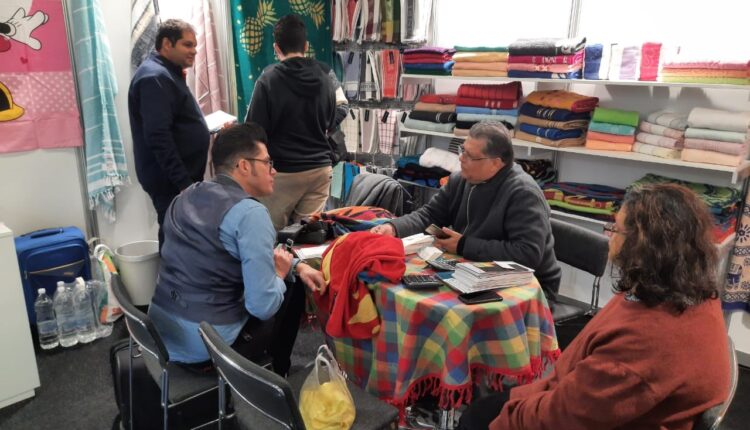 EPCH marks presence in Heimtextil 2023 in Messe Frankfurt, Germany
New Delhi – 11th January'2023 – The Heimtextil, 2023 got underway at Frankfurt in the august presence of Vinod Kumar Consul and Actg Consul General and Head of Economic and Commerce Wing, Consulate General of India, Frankfurt and other member exporters. The fair will be held from 10th – 13th January' 2023. It is a great opportunity for India to showcase "Incredible Textiles of India", incomparable diversity, rich culture, tradition of arts and crafts at such a big platform like Heimtextil. The Council has organized the member participation with 20 member exporters from different parts of the Country spread in Hall no. 10.3 and hall 6.2 informed by Rakesh Kumar, Director General – EPCH.
He further said that Heimtextil is the world's largest event for interior textiles, interior design, home furnishings, and household textiles. This trade show offers significant inspiration to both the exhibiting companies and the professional visitors from all over the world with its new products and trends. It should be noted that over the years, the presence of India at Heimtextil Frankfurt has also grown significantly.
Raj Kumar Malhotra, Chairman – EPCH said Indian participation is the second largest after China about 400 Indian exhibitors are part of the show. It is well known today, the textile furnishing sector faces major challenges due to the digital revolution. Digitization opens up many opportunities on the production side & on the retail side, however, it leads to a significant shift in purchasing flows. Inspite of all these around 2400 exhibitors from over 120 countries are participating in Heimtextil, 2023.
R. K. Verma, Executive Director –EPCH said, India's participation will add to the fair's vibrancy and diversity, as well as familiarise global manufacturers, retailers, and brands with the robust entrepreneurship in the Indian textiles, home furnishing, and consumer products industries, opening up opportunities for sourcing from India. He further said that since Germany is a major market for Indian products, Heimtextil is an important marketing medium for Indian companies all over the world.
EPCH is a nodal agency for promoting exports of handicrafts from the Country to various destinations of the world and projecting India's image abroad as a reliable supplier of high quality handicrafts goods & services. The Handicrafts exports during the year 2021-22 was Rs. 33253.00 Crores (US $4459.76 Million) registering a growth of 29.49% in rupee term & 28.90% in dollar terms over previous year. The exports of handicrafts items to Germany during the year 2021-22 is Rs. 1816.70 Crores (US $243.65 Million) registering a growth of 19.36% in rupee term and 18.82% in dollar term over previous year informed by Rakesh Kumar, Director General – EPCH.