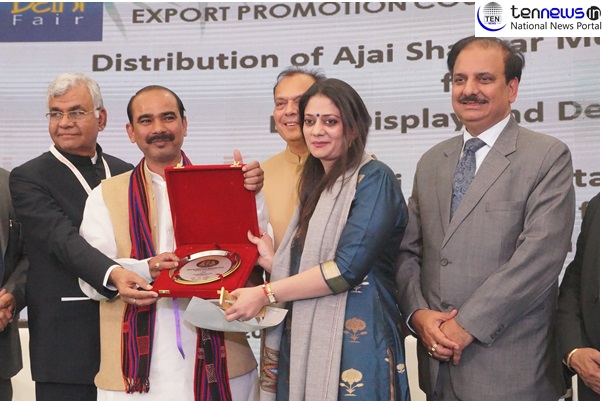 EPCH's IHGF Delhi Fair Spring 2018 culminates with Prize distribution
Saurabh Kumar
27//2/2018      Saurabh Kumar
Today Export Promotion Council for Handicrafts (EPCH) has organized a prize distribution ceremony of Ajay Shankar Memorial Awards for the best designed and displayed stands during 45th edition of world's largest fair "IHGF-DELHI FAIR" – SPRING 2018.
Ajay Tamta, Minister of state for textiles, Government of India. He was welcomed by the bagpiper's band on his arrival. Rakesh Kumar, Executive Director of EPCH accompanied him while he visited various exhibitor stalls. There after prize were presented to the winners under various categories like Lamps & Lighting, Furnishing & Home Textiles, Furniture, House ware, Fashion Jewellery, Festive Decor etc.
While addressing the gathering Ajay Tamta said that "EPCH is doing a great work in this sector. EPCH  has started working in 1994 and at that time its annual turn over was 3,000 crore which has now reached up to 27,000 crore and if we will get into the detail of this and will try to address the difficulties of Exhibitors and Foreign buyers we will be able to trun this figure to 45 to 50 thousand crore . We will take this as part of New India mission of Modi ji and will make it happen".
Further he said that "Few days earlier I got the opportunity to visit 700 to 800 years old world famous Handicrafts fare in Frankfurt, Germany. As of now India will be the partner country of the fare for next year. This will help in increasing the trade and benefitting the traders and our ministry is continuously working in this direction".
Lastly he wished everyone Happy Holi saying that he can read the happy faces of exhibitors which is a sign that they had a good trade in this year's edition.
Vote of thanks was given by R K Verma Director EPCH, he said "I profoundly thank everyone for their relation with IHGF Delhi and welcome new comers to this unique platform. He detailed that next "IHGF-DELHI FAIR" – AUTUMN 2018 will held from 14th October to 18th".