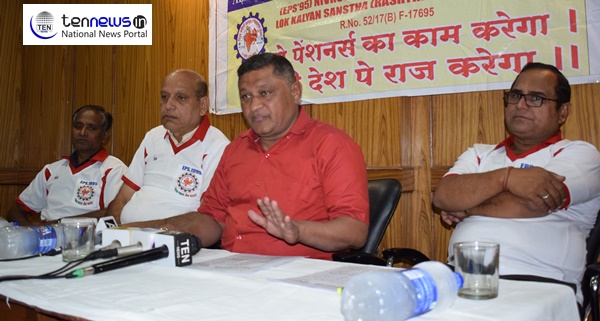 New Delhi: Senior pensioners fatting under the age of 60 to 80 years have submitted a letter to the Prime Minister Narendra Modi's office highlighting the plight of EPS-95 pensioners and have threatened of mass suicide if their demands are not met.
The EPS-95 pensioners have now decided to sit on an indefinite hunger strike and even perform self-immolation in front of EPFO Office in New Delhi on December 4. Nearly 62 lakh pensioners who are receiving pensions in the range of Rs 200 to Rs 2500 post-retirement have threatened of a mass suicide to make their voices heard.
"On December 4, 2018, the EPS-95 pensioners will stage a protest outside EFP office outside Bhikaji Kama Place, Delhi and sit on an indefinite strike," said the president of Rashtriya Sangharsh Samiti, Commander Ashok Raut.
Commander Raut informed further that in 2014, the PM had announced to increase the amount to Rs 1000 for the pensioners but around 17 lakh pensioners are receiving less than Rs 1000. Nearly 62 lakh pensioners are getting less than Rs 1500 per month and the EPFO is misleading them.
The pensioners have been protesting extensively in the last one year. Raising the issue of death of more than 2 lakh pensioners within a period of 12 months, the EPS-95 pensioners' delegation has met with Road and Transport Minister Nitin Gadkari, Finance Minister Arun Jaitley, Labour and Employment Minister Santosh Gangwar, Members of Parliament, CBT and the Delhi Police Commissioner.
They have performed a 'Bhiksha Andolan', mailed 12 lakh postcards to the Prime Minister, shaved their heads in protest outside District Magistrate's offices, sent appeals via DM offices across India, and even organised a lockdown protest of regional EPFO offices to draw the attention of the administration.
They stripped their shirts off to mark their protests in front of the offices," Commander Raut informed further.
The protesting pensioners demand that EPFO's May 31, 2017, interim order – which is against their interest – must be revoked and recommendations of the treasury committee accepted. They are forced to take this massive agitation for no one is paying attention to their demands.
"The EPS-95 pensioners are being given in between Rs 200 and Rs 2500, despite a high rate of inflation. The representatives of the pensioners have even staged a protest in front of 10 selected CBT members in New Delhi, Visakhapatnam, Jalgaon (Maharashtra), Lucknow, Chandigarh, and Kolkata to mark their protests," added Commander Raut.
"Ironically, the government employees are being paid in between Rs 1 lakh to 1.5 lakh per month and here pensioners are not even getting proper amount to fend their family," the Commander added. Commander Raut further stated that Central government has slashed more than Rs 4 lakh crore from the pensioners and getting huge interest from this amount but the pensioners are not getting their dues.