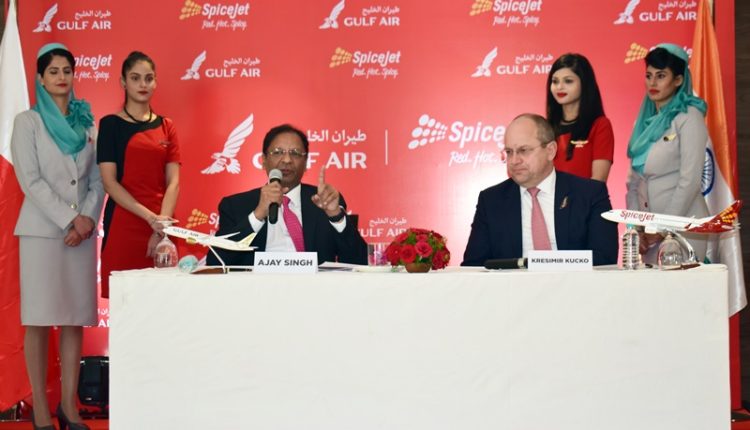 Explore more destinations, fly more; SpiceJet signs MoU with Gulf Air
Saurabh Kumar (Photo-Video) Lokesh Goswami Tennews New Delhi :
New Delhi: SpiceJet and Bahrain's national carrier Gulf Air on Wednesday signed a Memorandum of Understanding to explore possibilities regarding interline and codeshare agreement, coordinated cargo services, engineering services and pilot training.
The MoU was signed by Ajay Singh, chairman and managing director at SpiceJet, and Kresimir Kucko chief, executive officer at Gulf Air, in New Delhi.
"SpiceJet and Gulf Air will look at collaborating in the field of pilot training to nurture talent in order to deliver the finest resources for both the airlines. The airlines will also engage and collaborate to enhance their respective cargo and engineering services," Ajay Sing said in a statement.
In response to a question on financial health of the domestic airline industry, Ajay Singh was of the opinion that one needs to stop looking at the financial health of domestic aviation from one quarter to the next, but take a more long term view of the industry.
Gulf Air is the flag carrier of Bahrain and operates to more than 50 destinations across 30 countries. The airline operates to eight cities in India with 82 flights per week, chief executive officer Kresimir Kucko said
Both IndiGo and SpiceJet, the two listed airline companies in India reported losses for the first two quarters of this year.