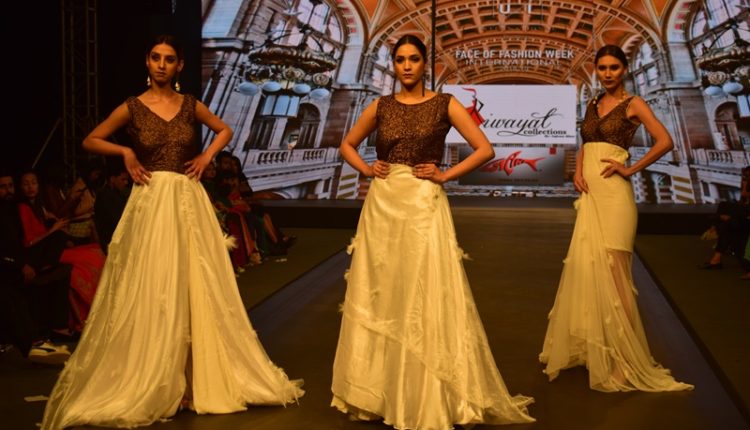 Face Of Fashion Week International 2018 – 19 Kicks off in New Delhi!
Prerit Chauhan (Photo/Video) By Lokesh Goswami Ten News Delhi :
New Delhi: Face Of Fashion Week International 2018 – 19 with a show full of prints, tassels and slick tailoring kicked off at Hotel Vivanta By Taj, Dwarka in New Delhi on Friday.
The Event is being organised by U & I International and Rahul Passi. The event is an amalgamation of fashion, glamour, trends for 2019 and sizzle winter evenings. Ace fashion designers of India, couturiers, show directors join hands to present perfect camaraderie of  fashion & beauty that has never been witnessed before.

Day – 1 at the Face of Fashion Week 2018-19 saw Back to back fashion shows, most sought after Fashion Exhibition with best of beauty, jewellery and fashion finesse on display. Beautiful Bollywood actress Shazahn Padamsee added glamour and charm to the fashion week.
Creme de la creme of society also graced the occasion in large attendance and witnessed fashion extravaganza of 2019 on Day – 1.

Speaking to Ten News on the occasion,Organisers Rahul and Radhika, said,
"It feels really Great, something you have been dreaming since almost 10 year so its has come to reality it feels good. The company name U and I so the meaning is U and I is a fashion. Why fashion because we know fashion industry in Delhi if you want to do something in fashion you have to go Mumbai. U and I will create a platform that will connect Delhi to Mumbai."

Designer Omal Sindwani said, "I'm really excited to be here. Thank you Rahul and isha for giving us this platform i hope everyone will like my collection. I'm very excited because this is my first opportunity to showcase my collection so i'm very excited."

Designer Shilpa Mittal while Speaking to Ten News about her Jewellery collection said, "The show is really amazing. I'm loving the space and all the ambience. I'm have designed pure Rajasthani jewelry which i'm displaying here. I'm have developed something new here that is a combination of a regal and mythological master pieces."
The Two day Fashion Show will feature top notch designers including Reena Dhaka, Rajdeep Ranawat, Dimple Kapoor, Nick Roshan, Arjun Kumar label, Kingshuk Bhaduri, Rajdeep Ranawat will present their beautiful collections, ace makeover expert Mallika Gambhir who would accentuate looks of all models with most innovative make up and elaborate hair dos. Show is being choreographed by celebrity choreographers Kapil Gauhari and Khizar Hussain and and show director is very renowned Ketan Bhatia.