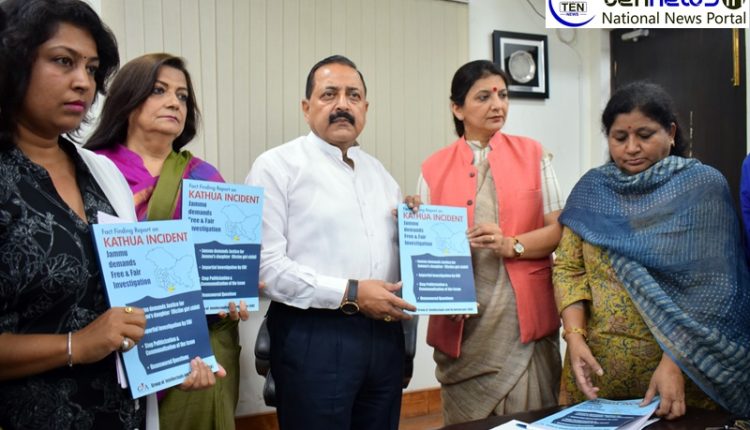 Fact-finding team of Intellectuals (GIA) hand over report on Kathua incident to MoS Dr. Jitendra Singh
Prerit Chauhan (Photo/Video) By Lokesh Goswami Ten News Delhi :
New Delhi: The Kathua rape case sparked nationwide anger and promoted the centre to amend the Protection of Children from Sexual Offences (POCSO) Act in order to provide for death penalty in cases of rapes of girls less than 12 years of age. 

On Friday, a citizens group and a  fact-finding team of Intellectuals (GIA) which conducted an individual probe into the Kathua rape incident handed over
over a report on Kathua incident to Minister of state in PMO Dr. Jitendra Singh in New Delhi. The Group Caimed that the charge sheet filed by the Jammu and Kashmir Police in the case had discrepancies and the investigation was botched-up.
GIA, the Group of Intellectuals and academicians is a forum for professional and articulate women that took shape as a questioning and proactive voice society on January 11, 2015. They hold monthly seminars on vital, current issues, publications, marches and public signature campaigns to draw the attention of society towards important social and political issues. 
This report  brings out the true facts about the alleged rape and murder of an eight year old girl child belonging to the Bakerwal community in District Kathua, State of Jammu and Kashmir, India (henceforth, the Kathua incident). The incident happened between January 10 and January 17, 2018 and came into . limelight in March-April 2018. 
Speaking to media GIA said, "As the media picked up this incident we observed that discussions about this incident were rapidly acquiring a communal color. We observed a liagrant violation of law in the reporting of this incident in the media. We were able to discern a deliberate attempt in the social media to push the country towards communal riots and unimaginable bloodshed over this issue."
Union Minister of State in PMO with independent Charge of North Eastern States, Dr Jitendra Singh Said, "There is a strong case for handing over the Kathua incident case to the CBI. This will not only assuage the insecurities of the people of Jammu but also rectify the blatant inconsistencies in the case as documented in the report."